THE BEATLES – LEE DORSEY – THE BEACH BOYS – KEITH MEETS MICK
by Robert Seoane
THE BEATLES

The Beatles in 1961; with Paul McCartney trying to look tough, John Lennon, Pete Best and George Harrison
BEING A SHORT DIVERSION ON THE DUBIOUS ORIGINS OF BEATLES
"Once upon a time there were three little boys called John, George and Paul, by name christened. They decided to get together because they were the getting together type. When they were together, they all wondered what for after all, what for? So all of a sudden they all grew guitars and formed a noise. Funnily enough, no one was interested, least of all the three little men. Soooo…. on discovering a fourth little even littler man called Stuart Sutcliffe running about them, they said, quote 'Sonny get a bass guitar and you will be alright,' and he did, but he wasn't alright because he couldn't play it. So they sat on him with comfort till he could play. Still there was no beat, and a kindly old, aged man said, quote, 'thou hast not drums!' We had no drums! they coffed. So a series of drums came and went and came. Suddenly, in Scotland, touring with Johnny Gentle, the group (called The Beatles called) discovered they had not a very nice sound – because they had no amplifiers. They got some. Many people ask what are Beatles? why Beatles? Ugh, Beatles, how did the name arrive? So we will tell you. It came in a vision – a man appeared on a flaming pie and said unto them, 'From this day on you are Beatles with an 'A'. – Thank you, Mister Man, they said, thanking him." – John Lennon, Mersey Beat
John Lennon wrote that rather fantastical explanation of the origin of his fledgling group for a local magazine called Mersey Beat. It appeared on Page Two of its first issue, a tongue-in-cheek work of witty prose that predated Lennon's experimentation with words in his books of nonsense verse, "In His Own Write" (1964) and "A Spaniard in the Works" (1965), not to mention the evolution of his songwriting as a Beatle.
Mersey Beat Magazine was founded on July 6, 1961, by Bill Harry, one of John Lennon's friends from Liverpool Art College. It was published every fortnight, just like today's Rolling Stone Magazine, and it covered all the news of the local musical acts in town. They gave special preference to the Beatles not just because of his friendship with John, but because the group was quite popular, keeping very busy playing regularly in and around Liverpool throughout 1961 after coming back from Hamburg, Germany. Lennon was also a contributor to the rag, hence the above writing, one of several he wrote at the time.
Part of the reason for the need of a local musical newspaper was the sudden proliferation of British bands springing up not just in Liverpool but its neighboring areas as well. Over 350 groups were playing nightly at clubs and concert halls throughout Merseyside; competition was fierce. As a result, the circulation of Mersey Beat's first issue reached 5,000, but by the time Harry dispatched photographers and journalists to nearby Manchester, Birmingham, Sheffield and Newcastle to cover those town's burgeoning rock 'n' roll groups, its readership swelled to 75,000 pairs of eyes.
John Lennon's involvement with the magazine was criticized when practically every issue had something to say about the Beatles, to the point that critics cracked it should be renamed Mersey Beatles instead. But for all intents and purposes, John Lennon, Paul McCartney, George Harrison and Pete Best were working rock 'n' roll musicians.
"There would always be a bunch of groups on, maybe five, and we'd follow somebody and do our bit. They liked us because we were kind of rough and we'd had a lot of practice in Germany. They couldn't believe it. There were all these acts going 'dum de dum' and suddenly, we'd come on jumping and stomping. Wild men in leather suits." –George Harrison
Their musical chops had vastly improved during their three-month stay in Hamburg, but then George was deported for being underage and Paul and Pete were deported the following day for burning a condom onto the wall of their dressing room. John stayed in Hamburg by himself, playing with other groups of musicians, but he too decided to go home after 10 days. He arrived in Liverpool on December 10th, 1960 and spent the first week alone without contacting the other three.
"When I did get home, I was so fed up I didn't bother to contact the others… I just withdrew to think whether it was worth going on with. You see part of me is a monk and part of me is a performing flea. Knowing when to stop is survival for me. Anyway, after a while, I got to thinking that we ought to cash in on the Liverpool beat scene. Things were really thriving and it seemed a pity to waste the experience we'd got, playing all those hours every night in Hamburg." –John Lennon

Mona Best, Pete's mother and owner of the Casbah Club
The group ultimately reunited, as we all know, and started to perform in various clubs and halls, including drummer Pete Best's mother Mona's Casbah Club and a Christmas Eve performance at the Grosvenor Ballroom in Wallasey, but it was their performance at the Litherland Town Hall on December 27th that cemented their reputation as a popular Liverpool band, playing to their largest audience ever. Much like the fateful night on the Ed Sullivan Show in 1964, the audience went crazy at Litherland. It was one of the first moments of burgeoning Beatlemania. The evening's promoter at Litherland, Brian Kelly, was so impressed by the audience reaction that he hired the group to perform in 36 different halls from that day through March 11th.
"We all wore black that we had picked up in Hamburg. All the Liverpool girls were saying 'Are you from Germany?'" –Paul McCartney
"Suddenly, we were a wow. Mind you, 70% of the audience thought we were a German wow. They said 'Christ, they speak good English!' which we did, of course, being English." –John Lennon
Because their bass guitarist Stu Sutcliffe had just recently quit the band to stay in Hamburg with his fiancée, Astrid Kirchherr, Paul McCartney became the band's official bass player, beginning on the night when they appeared again in Litherland, January 5, 1961. In attendance watching the show was Richard Starkey, who went by the name Ringo Starr as a performer. Ringo and the Beatles had become friends the previous year, in 1960, when the group first played in Hamburg. He had just returned to Liverpool as well from playing in Hamburg with another Liverpudlian group, Rory Storm and the Hurricanes. Ringo had sat in with the Beatles to play drums a few times when Pete wasn't available for one reason or other. John, Paul, and George realized how much better a drummer Ringo was than Pete as soon as he sat down at the drum kit, but Starr was committed to the Hurricanes and there was no real pressing need to get rid of Best, except that not only was he not a very good drummer, he wasn't as sociable as the other three either, having a tendency to keep to himself and skipping out on most photo opportunities and sessions.

From left, Paul, Ringo, Beatles' roadie Neil Aspinall, George, and an unknown girl. The person standing, left, may very well be Stu because of the scarf he seems to be wearing.
"It was when they came back from Hamburg that the Beatles needed transport to get them to the Cavern and other places. They were using cabs at the time and all the money they were earning was going to the cab drivers. I had a van and needed the money so Pete told the others that I would drive them 'round. I did that for £1 a night, which wasn't bad." –Neil Aspinall, President; Apple Records
"We'd play places and people would throw pennies at us. To disarm them we'd stop playing and pick up all the coins. We thought, 'That'll teach 'em. They won't keep throwing now.' We had pockets full of pennies." –Paul McCartney
The lads were paid a grand total of £7.50 that night, which is 165 Euros in 2016, or just about $185 USD. Backstage that night, 17-year-old music fan Dave Fershaw, another young entrepreneur who was putting on music events on and around town, liked them so much he booked them for several more shows in different venues, which they also played throughout the year. In January alone they played twenty bookings and on four different occasions played in two different locations on the same night.

from left, Stu Sutcliffe, John Lennon, an unknown friend, George Harrison, Paul McCartney and Pete Best
Stu returned to Liverpool from Hamburg on January 20th. That night, he went to see the Beatles play in Lathom Hall. At the end of the night, John and Stu got into some kind of drunken scuffle with a group of other young drunks, perhaps for John shooting off his mouth as he was always prone to do and as depicted in the film "Backbeat" (1994). Legend has it that the rumble caused Stu Sutcliffe to get kicked in the head. Some, like Stu Sutcliffe's sister, have suggested that it was John Lennon who kicked him in the head. Sutcliffe's sister has claimed to have Stu's diary where there is proof that this is so, but she has not herself backed her claim up with this or any other evidence.
In February, the Beatles started booking lunchtime and evening gigs in the Cavern. The Cavern's attitude to them had changed drastically from the first time the group played there as the Quarrymen.
A man by the name of Al Sytner opened the Cavern in 1957 after he came back from Paris having been to several nightclubs there that were housed in cellars and old underground bombing shelters. Sytner went to look for a place just like that in Liverpool and found a cellar on 10 Mathew Street that would do quite nicely. He named it the Cavern and he made it a jazz club. When the Quarrymen played in 1958 before George and Pete, they were allowed to play skiffle, but not rock 'n' roll. Sytner felt that neither his crowd nor he could tolerate that kind of music. Of course, John Lennon wouldn't have that and launched into Elvis Presley's "Don't Be Cruel" after playing a set of standard skiffle tunes. Sytner pushed his way to the front of the stage and handed Lennon a note with "Cut out the bloody rock & roll" scrawled on it.

The Beatles performing in the Cavern Club; 1961
Sytner sold the Cavern to Ray McFall in 1959. McFall broadened the Cavern audience by establishing beat nights in which rock & roll groups like Rory Storm and the Hurricanes could come and play. On February 9th, 1961, the Beatles played together as John, Paul, George and Pete for the first time.
"We used to play lunchtime dates. We'd get up and go down to the Cavern and play from noon 'til about two. It was very casual. We'd have our tea and sandwiches and cigarettes on stage, sing a couple of tunes and tell a few jokes." –George Harrison
Stu Sutcliffe had left the Beatles not just to stay in Hamburg but primarily because his first love was art and painting, not music. Still, he maintained his close friendship with the group, particularly John. When he returned to Liverpool on January 20th, it was to nurse a case of tonsillitis. Once he got better, he planned to apply for an Art Teacher's Diploma course at the Liverpool College of Art but was ultimately turned down, so he applied at the Hamburg College of Art where he was accepted.
Preparing to return to Hamburg and Astrid to begin his studies in June, Stu left for Germany on March 15, 1961. During that time before he began school, Stu and Astrid managed to get the Beatles a booking at the Top Ten Club for 30 nights straight starting April 1st. The owner of the club took it upon himself to work out the group's deportation issues so they can return to Germany. On March 27th, John, Paul, George and Pete set off back to Hamburg.
"I'd become eighteen when we went (to Hamburg) the second time… When we went back we were playing at the Top Ten and living above the club, a really grubby little room with five bunk beds. In the next room was a little old lady known as Mutti. She was pretty stinky. She used to keep the toilets clean. They were really bad up there." –George Harrison
"We tried our 'Beatle' hairstyle in Hamburg this time. It was all part of trying to pull people in. 'Come in, we're very good rock 'n' roll'." –Paul McCartney
"That was the last time I cut anybody's hair." –John Lennon
Upon their arrival, an acquaintance they made when they had played at the Kaiserkeller the previous October contacted them. His name was Jürgen Vollmer and he was a 21-year-old photography student. Looking to expand his photographic portfolio. Vollmer had walked the "backyards" of Hamburg for mysterious looking locations and found an interesting doorway at Jagerpassage 1, Wohlwillstrasse 2. "It would be great to have a rock 'n' roller in there," he thought, so he contacted the Beatles and asked them if they'd be interested in having photos taken of them.
One day in April, Jürgen took the Beatles to that doorway and asked John, "you just lean there and look arrogant like you always do." He then asked the other three Beatles to walk past him. Pete Best was unsurprisingly not in attendance but Stu Sutcliffe was there.
In the famous photograph that later adorned the cover of John Lennon's "Rock 'n' Roll" (1975) album, Paul, Stu and George were crossing as John leaned at the doorway. The three were purposely out of focus except for their shoes. In order to get that effect, Jürgen had them cross the frame a dozen times.
May Pang, John Lennon's girlfriend at the time of his estrangement to Yoko Ono, contacted Vollmer one day in 1974, twelve years after those photos were taken. Vollmer by then had been working in New York as a magazine art director. She asked Vollmer to meet John with the photos. Vollmer went to the recording studio where John was cutting the "Rock 'n' Roll" album with several enlargements of the photos he had taken that day in April. John chose the one he liked best and asked him to design the cover as a gatefold. John thought the finished design was "beautiful" as he put it, but the cover was redesigned just before the album's release by Capitol Records' Art Director Roy Kohara, who eliminated the gatefold idea and just made it a single sleeve, and enlarging the photo to exclude the other Beatles in-focus shoes, much to Vollmer's disappointment.
The Top Ten Club was owned by Peter Eckhorn. Eckhorn paid each of The Beatles 35DM (£3) per day, which translates to about 66 Euros, or $74 USD in 2016. The group was required to play from 7PM until 2AM each weekday and until 3AM on weekends with a 15-minute break after each hour. They proved so popular that Eckhorn booked them for the month of May and then June as well, totaling a 92-night stretch, their longest residency at any musical venue to that date, and playing every single night without any days off.
"(Our friends) Astrid (Kirscherr) and Klaus (Voorman) were very influential. I remember we went in the swimming baths once and my hair was down from the water and they said 'No, leave it, it's good.' I didn't have my Vaseline anyway and I was thinking, 'Well, these people are cool, if they think it's good, I'll leave it like this.' They gave me that confidence and when it dried off it dried naturally down, which later became 'the look'." – George Harrison

TONY SHERIDAN

Singer/Guitarist Tony Sheridan
"It was great playing with Tony Sheridan. I was there in 1962 backing him with Roy Young and Lou Walters on bass. It was all very exciting. Tony was really volatile. If anyone in the club was talking to his girl he'd be punching and kicking all over the place, while we'd just keep on jamming. Then he'd come back and join us, covered in blood if he'd lost. But he was a really good player." –Ringo Starr
Dozens of British musical artists traveled to Hamburg regularly to perform to an eager and growing fan base. Besides Rory Storm and the Hurricanes, there were vocalists like guitarist Tony Sheridan, a dark-haired British lad with a quick temper and a voice like Elvis. Sheridan played at the Kaiserkeller in late 1960 at the same time the Beatles performed there. When the group returned to play at the Top Ten Club the following year, they found that Sheridan had been booked there also.

Paul holding the mic for a guest singer who came from the audience
It was a loose environment among the fellow musicians at the Top Ten. Sheridan joined the Beatles on stage regularly to play guitar and sometimes sing lead. In return, the group would back Sheridan up during his own performances.

From left, George, John and Tony Sheridan
BERT KAEMPFERT

German songwriter and orchestra leader Bert Kaempfert
One Spring night in 1961, Berthold Heinrich Kaempfert ventured towards Hamburg's notorious red light district, the Reeperbahn, and into to the Top Ten Club. He came in on a night Tony Sheridan was performing his act with John, Paul, George, and Pete backing him. He had heard there were many popular rock 'n' roll groups playing in that seedy area and he was looking for a group to record. Kaempfert was an ambitious orchestra leader and songwriter who just had a song at Number One in the US in January for three weeks called "Wonderland By Night". He would go on to write a handful of other hits like "Strangers In The Night", a 1966 Number One hit for Frank Sinatra, "Danke Schoen", made well-known by Wayne Newton, and "L-O-V-E", one of Nat King Cole's signature recordings.
That night at the Top Ten, Kaempfert set his sights on Sheridan, not really paying much attention to the scruffy young boys playing behind him, and eventually signed him to a recording contract.

Tony Sheridan and Stu Sutcliffe; photo by Astrid Kirscherr
Kaempfert soon got to work and auditioned bands in the area to back his new artist for an upcoming recording session. Sheridan suggested the Beatles back him up, so Kaempfert agreed to audition them as well. In the end, the tracks that made up Tony Sheridan's debut album included six with the Beatles backing him up and four with another group. Kaempfert didn't like the Beatles' name, so he decided to name Sheridan's backing band as the Beat Brothers, regardless of which band had backed him.
"When that offer came we thought it would be easy. The Germans had such shitty records. Ours were bound to be better. We did five of our own numbers but they didn't like them. They preferred thing like 'My Bonnie'. It's just Tony Sheridan singing with us banging in the background. It's terrible, it could be anybody." –John Lennon

Paul and John always trying to look their best
Two additional tracks that come closest to Beatle songs are "Ain't She Sweet", where John Lennon takes over the lead vocal, and "Cry For A Shadow", a so-so instrumental and the only songwriting collaboration between John Lennon and George Harrison.
On June 22nd and 23rd, 1961, Sheridan and the Beatles went to Hamburg's Friedrich-Ebert-Halle to record in the gymnasium with Tony Sheridan. The songs they recorded are listed below and are only those songs Sheridan recorded with the Beatles.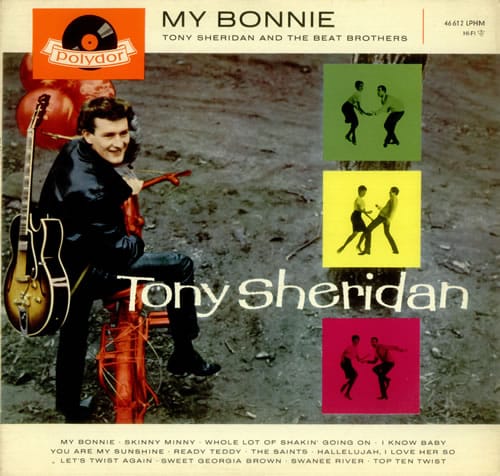 This photo was one Astrid Kirscherr took but with Stu Sutcliffe cropped out.
MY BONNIE – TONY SHERIDAN AND THE BEATLES
"Bert Kaempfert said 'We gotta play something that the Germans know', because the kids learned it at school, you know." – Tony Sheridan

The first pressing of "My Bonnie", October 23, 1961
The first track they laid down would prove to be the song that would launch the Beatles' recording career because of the interest it generated by a handful of fans, three to be exact, who requested the record in a Liverpool record store. It was the lead single to be released from the batch of songs they recorded during these sessions, and it became a moderate German hit. For the first professional recording with the Beatles, it's a glimpse at the group's tight musical chops.
"My Bonnie Lies Over The Ocean" is a traditional Scottish folk song that was written sometime in the mid-Eighteenth century. Legend has it that it was a political song, written about Charles Edward Louis John Casimir Sylvester Severino Maria Stuart, an heir to the British throne and a leader of the Jacobite movement to restore the Roman Catholic Stuart King James II, his father, and his heirs, to the thrones of England, Scotland and Ireland. In 1745, he led a failed uprising to take the throne of Great Britain and was forced to flee across the sea to Scotland. Charles Stuart was often referred to as The Young Pretender or The Young Chevalier ("The Young Knight") but most of all as Bonnie Prince Charlie. So when the Bonnie Prince fled over the ocean to Scotland, Jacobites mourned his defeat and the end of the Jacobite movement with a mournful song.
"My bonnie lies over the ocean, my bonnie lies over the sea, my bonnie lies over the ocean, oh', bring back my bonnie to me…" "My Bonnie Lies Over the Ocean"
In time, the ballad became popular around the world, having become a children's song by the 20th Century. The word "bonnie" can also be interpreted as a pretty girl, thus becoming a timeless love song of longing.
The first notable thing about this recording besides Tony Sheridan's arrangement is its incredibly crisp stereophonic sound. The instruments and vocals are neatly and distinctly separated, cradled in a tight drum bed courtesy of Pete Best, who shows no evidence of not being able to carry a beat. There's a wicked lead guitar solo delivered by 18-year-old George Harrison that boasts how much he had learned playing all that time in the Hamburg and Liverpool clubs. John Lennon played the rhythm guitar as usual and Paul McCartney having taken Stu Sutcliffe's place, played bass. Sutcliffe was present at these recordings and was happy to relinquish the instrument over to Paul, especially because he never felt truly comfortable with it.
The song begins the way everyone recognizes the familiar tune, in A, as a soft slow, melody with Sheridan's competent vocal over the Beatles' baritone humming. Suddenly there's a pause, then George peels off five quick licks before the tune begins in earnest. Sheridan delivers a solid vocal performance while the Beatles scream and clap their hands much like they would continue to do in the early catalog of music they would go on to record in 1964.
"My Bonnie" was first released only in Germany in October 1961. It peaked at Number 32 in the national chart published in Der Musikmarkt, Number 11 in the German jukebox charts, and Number Four in a local Hamburg chart. It was a truly good rock 'n' roll record, worthy of several listens, even today.
THE SAINTS – TONY SHERIDAN AND THE BEATLES
"When the Saints Go Marching In" is a traditional gospel church song that originates from "When the Saints Are Marching In", composed in 1896 as a stately Christian hymn to be played during religious processions. It wasn't until Louis Armstrong came around and modernized it for the 1930s that it turned into a classic jazz number closely identified with New Orleans.
Tony Sheridan and the Beatles' version of "The Saints" credit Katharine Purvis and James Milton Black, composers of the 1896 song, as the songwriters. Updated to rock 'n' roll ears, Sheridan delivers the vocals to this version very much like Elvis, even beginning the tune with the "welluhelluhelluh…" Presley stutter. George's guitar solo runs closely to Chuck Berry's rock n' roll style, but the most interesting part of the song is Paul's bass in the intro.
McCartney's bass can be appreciated during those first few seconds of "The Saints" because it's out in the open and not buried under Best's drumming, so you can listen to the melodic lick Paul chooses to play, a style that would become his contribution to the bass guitar in rock 'n' roll history. Instead of just accompanying the drums with a beat that mimics the percussion, McCartney chooses an always changing, always interesting musical line between the beats. McCartney's unique use of the bass was a first, and it would open new musical directions that would blossom throughout rock music for the rest of the Sixties and beyond.
"The Saints" was released along with "My Bonnie" as the flipside of the record, and it gave the Beatles an opportunity to acquire a larger audience. German teenagers who had heard of them or had seen them play in those Hamburg clubs scooped up the single. Soon, it would find its way into Liverpool through word of mouth.
CRY FOR A SHADOW – THE BEATLES
"Cry For A Shadow" can be considered the very first recording with John, Paul and George if you don't count those primitive tracks they laid down of Buddy Holly's "That'll Be The Day" and McCartney's "In Spite of All The Danger" in 1958, when they had scraped together their money to go record by themselves. 'CFAS' is an instrumental composition and the only one written as a collaboration between John Lennon and George Harrison. George came up with the intro and the guitar line running throughout and John contributed the rhythm section.
The title "Cry For A Shadow", as well as the instrumental itself, was an imitation of the biggest rock 'n' roll group of the day in Britain, the Shadows, who used to back British Fifties pop mega star Cliff Richard in those days. The Shadows' lead guitarist Hank Marvin was known to have played guitar similarly, and George Harrison copied it in "Cry For A Shadow" with Lennon and McCartney's yelling during portions of the song just like the Shadows' bass guitarist Terence "Jet" Harris'. The original title of the song was going to be "Beatle Bop", but due to the similarity in musical style to the Shadows, the group decided to credit the band they were imitating.
WHY (CAN'T YOU LOVE ME AGAIN) – TONY SHERIDAN AND THE BEATLES
"Why" was co-written by Tony Sheridan. It's a decent melody with a great stereo sound, with the distinct and crisp separation that makes it a pleasure to listen to, particularly in headphones. It's rather astonishing to hear how good an audio recording can be for 1961, far surpassing many other stereophonic releases of the day from the USA.
Sheridan's vocal is assured and reminiscent of Elvis again, as is the whole song very much rooted in Fifties rock 'n' roll. What's interesting is George' Harrisons little guitar fills in the beginning between each lyrical line, sounding very much like future fills in "I'll Follow the Sun" and "Here Comes The Sun". It's also funny to hear the Beatles vocalizing once again as background baritones, including their signature hand clapping they would do in many subsequent early Beatles recordings.
"Why" was meant to be released as the follow-up single to "My Bonnie", backed by "Cry For A Shadow", but it never came about. It would ultimately be released as part of an EP (Extended Play, usually containing a total of two songs per side) in 1963 with "My Bonnie" and "The Saints", calling the record "Tony Sheridan with the Beatles".
OTHER TRACKS FROM SHERIDAN AND THE BEATLES
The songs take a downward turn with Sheridan's annoyingly persistent Elvis soundalike on "Nobody's Child", featuring the Beatles' uninspired accompaniment. It almost sounds like they've all taken a tea break as George bravely sips and picks while Pete lazily drums along.
Same goes for "Take Out Some Insurance On Me, Baby", despite a nice but brief guitar solo from George, with Sheridan continuing to insist on ripping off the Elvis sound. One notable mention is the use of the word 'goddamn' in "TOSIOMB", probably a first for a rock 'n' roll song to use a curse word, predating John Lennon's use of the word 'fuck' in "Working Class Hero" by nine years.
You'd think Tony Sheridan was auditioning for Elvis Presley's job with his version of "Sweet Georgie Brown", made famous as the theme song for exhibition comedy basketball team The Harlem Globetrotters. The song is a jazz standard first written in 1925. The Beatles' background vocals are the most distinctive here. Those who are familiar with their voices can actually pick out Paul, George, and John in various moments. As the song picks up the tempo, a snazzy piano is added to the mix and makes the song one of the highlights of the recording session.
A different, more fun version of "SGB" was re-recorded by Sheridan and the Beatles in 1963. In this one, at a time when the Beatles had become the biggest group in England, Sheridan references their long hair and rising popularity.
"In Liverpool, she even dared to criticize the Beatles' hair, with their whole fan club standing there, meet Sweet Georgia Brown" –Tony Sheridan
AIN'T SHE SWEET – THE BEATLES
"Gene Vincent's recording of 'Ain't She Sweet' is very mellow and high-pitched and I used to do it like that, but the Germans said, 'Harder, harder' – they all wanted it a bit more like a march, so we ended up doing a harder version." –John Lennon
The Beatles were allowed to record another song showcasing just themselves, and this time it was John Lennon's turn to step up to the microphone.
"Ain't She Sweet" was written in 1927 and was typical of the music of the decade known as the Roaring Twenties. The Beatles apparently chose it to record in the spirit of Kaempfert's suggestion to play songs people know and then modernize them with a rock 'n' roll beat. The result is what can be considered the closest it can get to a Beatles record in 1961. The only difference was the drummer, as Ringo had still not replaced Pete Best.
John Lennon's vocals are front and center and unmistakably his. The recording, however, would not surface again until after the group was known worldwide in 1964. Both John Lennon and Tony Sheridan have asserted at different times that the Beatles had recorded much more on their own during those two days then what ultimately surfaced, but there is no record of any other songs produced other than the aforementioned ones.
After their recording debut in Germany, the Beatles returned to their hometown of Liverpool, England on July 2nd, 1961, having completed their stay at the Top Ten Club and leaving their ex-bandmate Stu Sutcliffe to marry Astrid. If ever there existed a storybook romance, this was it. The couple was happy and in love. Stu however, started to suffer excruciating headaches ever since he had returned from Hamburg. At times he would even black out. Stu assumed it was due to his overwork and mostly ignored it.
Four days after the Beatles' arrival home, the first issue of Mersey Beat appeared on the newsstands. The magazine would prove to be the catalyst that set them off into worldwide fame by spreading the word about them throughout Liverpool and its neighboring towns.

The Beatles and their fans at St. John's Hall
Taking eleven days to catch their breaths, they resume playing in Liverpool venues on July 13th at St. John's Hall and play practically every night through the rest of the year, alternating between Mona Best's Casbah Coffee Club and the Cavern, sprinkled with appearances throughout Liverpool's Halls, from Litherland to Holyoake and Blair.
In the book "The Outliers", author Malcolm Gladwell points to the Beatles as an example of outliers. The book explains that you not only have to have exceptional talent to succeed; there are always other important factors that must come to play in order to achieve the type of fame the Beatles ultimately reached. In the group's case, one of their advantages were their thousands of hours performing almost every night, sometimes twice in a day, and in Hamburg, also nightly for eight hour stretches. In fact, from the time they first ventured to Hamburg in late 1960 through their worldwide popularity by 1964, they logged over ten thousand hours of playing, amounting to 416 days, the standard from which most "outliers" have practiced in their own craft before they achieved notoriety. In the book, Gladwell breaks down the times they performed In Hamburg between 1960 and 1962 and came to a very rational conclusion.
"All told, they performed for 270 nights in just over a year and a half. By the time they had their first burst of success in 1964, in fact, they had performed live an estimated twelve hundred times. Do you know how extraordinary that is? Most bands today don't perform twelve hundred times in their entire careers. The Hamburg crucible is one of the things that set the Beatles apart." – from "The Outliers" by Malcolm Gladwell

"When we got back to Liverpool it was all 'Eh, your hair's gone funny.' – 'No, this is the new style.'" –Paul McCartney
BRIAN EPSTEIN
"On Saturday, 28th October 1961, I was asked by a young boy for a record by a group called The Beatles. It had always been our policy in records to look after whatever request was made. I wrote on a pad, '"My Bonnie", The Beatles. Check on Monday.'
I had never given a thought to any of the Liverpool beat groups then up and coming in cellar clubs. They were not part of my life because I was out of the age group and also because I had been too busy. The name 'Beatle' meant nothing to me, though I vaguely recalled seeing it on a poster advertising a dance at New Brighton Tower and I remember thinking it was an odd and purposeless spelling.
Before I had time to check on Monday, two girls came in the store and they too asked for a disc by this group. This, contrary to legend, was the sum total of demand for the Beatles' disc at this time in Liverpool. But I was sure there was something very significant in three queries for one unknown disc in two days.
I talked to contacts and found what I hadn't realized, that The Beatles were, in fact, a Liverpool group, that they had just returned from playing clubs in the steamy, seedy end of Hamburg. A girl I know said, 'The Beatles? They're the greatest. They're at the Cavern this week.'" –Brian Epstein
Bill Harry walked into NEMS with an armful of his newspaper, Mersey Beat. As the publisher of Liverpool's first music rag, he wanted to have it visible in the city's largest music store. The North End Music Store, NEMS, was that place.
Harry introduced himself to NEMS' manager, Brian Samuel Epstein and proudly handed him a copy of the first issue of Mersey Beat. Epstein leafed through the magazine and briefly read on Page 2 the origin of the Beatles that John wrote. He had seen pictures of the group in posters around Liverpool and asked Harry about them. Harry replied that they were the most popular band in town and they played a few blocks away from his store at the Cavern Club, did he know it? Epstein nodded and promptly forgot them. Focusing on the "Mersey Beat" paper, he saw the potential it had to promote his store. By the end of their meeting, Epstein had agreed to display Mersey Beat at the front of his store, and starting with the next issue on August 3rd, 1961, began to write a column for the paper called "Stop the World – And Listen To Everything In It". In return, he would place ads promoting NEMS.
Sometime later, on October 28th, 1961, teenage rock 'n' roll fan Raymond Jones walked into NEMS Record Store and asked for a copy of the single "My Bonnie" by the Beatles. Epstein instructed his assistant Alistair Taylor to put it on the list of records to order for sale in the store.
Taylor had a difficult time finding the record. There was no group of any kind called The Beatles that he could find. At one point, he did find a record called "My Bonnie" but it was published by the German division of Polydor. Not only that, the artists listed on the record was Tony Sheridan and the Beat Brothers. He ordered copies anyway since it was the closest he got to finding a record with that name.
Epstein then asked Taylor to arrange for both of them to go see the Beatles play at the Cavern the following week. Taylor discovered that the Beatles performed during lunchtime as well as dinner. On November 9, 1961, Epstein and Taylor went to the Beatles' lunchtime concert. Epstein beheld the queue of teenagers waiting to go in and glided past them, having been able to gain VIP access.
Once everyone was inside and settled, DJ Bob Wooler made a casual comment to the crowd about the VIPs that had come to visit that day.
"We have someone rather famous in the audience today. Mr. Brian Epstein, the owner of NEMS …"
Once the Beatles took the stage, Brian Epstein was mesmerized. On stage were four tough looking boys in black leather and jeans, sloppy during their performance, at times abruptly stopping a song they were playing to play one that someone in the crowd yelled out as a request.
"They were a scruffy crowd in leather, and they were not very tidy and not very clean. They smoked as they played and they ate and talked and pretended to hit each other." –Brian Epstein
It should be noted here that Brian Epstein was a closeted homosexual. Like much of the rest of the world in 1961, homosexuality in the United Kingdom was seen as not only a mental issue, but also an illegal act.
Epstein agonized over his sexuality all his life as he indulged in his secretive world, resorting to public lavatories after hours and sometimes returning home beaten and bloodied. He would also cruise the London clubs dressed in a US Army officer's suit. Although he went to the Army, he was never an officer. One night, he was arrested by the military police for impersonating an officer at the Army Navy Club located on Piccadilly. In order to avoid a court martial, Epstein agreed to see an army psychiatrist. It was there where his homosexuality was discovered. Ten months later, he was discharged from the Army for being emotionally and mentally unfit."
It's safe to assume that Epstein's had more than just a platonic attraction to the young boys playing rock 'n' roll before him.
"I was immediately struck by their music, their beat and their sense of humour on stage – and, even afterward, when I met them, I was struck again by their personal charm. And it was there that, really, it all started" –Brian Epstein
After the Beatles' set, Epstein and Taylor visited the group backstage in a dressing room that he later described "as big as a broom cupboard". They all recognized him, having been to buy records at NEMS many times before.
"And what brings Mr. Epstein here?" George asked in his subtly sarcastic way.
"We just popped in to say hello," replied Brian. "I enjoyed your performance," he added and introduced Taylor to them as his assistant. After a few minor pleasantries, Epstein and Taylor left.

"At that age, we were very impressed by anyone in a suit or with a car. And Brian was impressed with us. He liked our sense of humour and our music and he liked our look… black leather." –Paul McCartney
Later on, having lunch at Peacock's restaurant in Hackins Hay, Epstein asked Taylor what he thought of what they just witnessed.
"I thought they were absolutely awful," Taylor replied as he ate, but then admitted that there was something remarkable about him.
This made Brian smile. It wasn't just he who felt it. It wasn't just the teenage fans who acknowledged it. Even his assistant, who didn't even like them, felt there was something there.
Brian ate quietly for most of his lunch. "I think they're tremendous," he finally said. "Do you think I should manage them?"
"He had wanted us to sign up. But I believe he came a number of times before he actually decided to be our manager." –George Harrison
Over the next three weeks in November 1961, Brian Epstein went to the Cavern for lunch to watch the Beatles play. As he warmed up to their music and style, he did some inquiries and found out the group's last manager was a man named Alan Williams. Epstein called Williams to ask if he still had any ties to the group. Williams responded that there were no longer any ties between the Beatles and himself, but advised Epstein "not to touch them with a fucking barge pole" because the group had refused to pay a percentage of their winnings to a club in Hamburg over a dispute. This didn't deter Epstein and after one of their sets, he once again went backstage to ask the Beatles if they would like to meet with him at NEMS in the near future for a conversation about their music.
"He looked efficient and rich. That's all I remember. He tried to manage us but he couldn't get through to us. It lasted about a week. We said, 'We're not having you.' " –John Lennon
On December 3rd, 1961, John Lennon and George Harrison arrived at NEMS for the meeting. Pete Best was late and so was Paul McCartney, irking Epstein.
"He may be late, but he'll be very clean," George said, referring to Paul. John decided to bring Cavern DJ Bob Wooler with them to find out what the DJ thought of Epstein.
"This is me dad." Said John to Brian as he introduced Wooler.
After Paul and Pete finally arrived, Brian asked the group if they had a manager. They shook their collectively shaggy heads no.
"It seems to me that with everything going on, someone ought to be looking after you", Brian replied.
The meeting was short. Brian invited them to two more meetings on the 6th and then again on the 10th of December, where he presented them with a twelve-page document typed on lined paper. It was a detailed contract indicating his desire to manage the Beatles for the next five years, until 1967. Ironically, this is the year Epstein would die.

The Beatles' signatures, along with Paul and George's fathers', on Brian Epstein's contract
"So one evening we went down to the NEMS shop. It was very awe-inspiring, being led into this big record shop after hours with no one there. It felt like a cathedral. We went upstairs to Brian's office to make the deal. I was talking to him, trying to beat him down, knowing the game. Trying to get the manager to take a low percentage. And the others tried as well, but he stuck at a figure of 25%. He told us 'That'll do. Now I'll be your manager,' and we agreed. With my Dad's advice, I remember Dad had said to get a Jewish manager – it all fitted and Brian Epstein became our manager." –Paul McCartney
Because Paul, George, and Pete were still under twenty years old, they needed approval from their parents to sign the contract. George's parents were agreeable to the idea as well as Paul's father, but with a warning from Jim McCartney to his son to always keep an eye on the finances. Pete's mother Mona liked Brian, found him very professional and was impressed by his wealth. Lennon's Aunt Mimi was totally against the idea, feeling that John was just wasting his time playing in a rock 'n' roll band. But John was already 21 and of age, so he ignored her altogether.
"We were in a daydream 'til he came along. We'd no idea what we were doing. Seeing our marching orders on paper made it all official." =John Lennon
The Beatles wouldn't sign that contract before the end of 1961 but Brian went to work anyway, traveling to London the following day to promote his new band to various large record companies; Columbia, Pye, Phillips, Oriole, and Decca. Because of his stature in the music business as an important retailer selling to a significant portion of Great Britain, all these record companies agreed to meet with him, and all of them passed on the group, thanking Mr. Epstein for coming. Only one person, Mike Smith of Decca Records, decided to go see the Beatles play live.
On December 13, 1961, Smith traveled to Liverpool and went to the Cavern Club with Epstein. After the performance, Smith agreed to hold an audition of the Beatles at Decca on the first day of the New Year. On New Year's Eve 1961, Beatles roadie Neil Aspinall drove them and Brian to London. Neil lost his way and the trip took longer than ten hours. They arrived in London at 10PM on December 31st, "just in time to see the drunks jumping in the Trafalgar Square fountain", as John Lennon remarked regarding the moment.
"We changed the hairstyles and clothes of the world, including America – they were a very square and sorry lot when we went over." –John Lennon
Unbeknownst to the Beatles, Stu Sutcliffe had collapsed during a class at Hamburg Art College in late 1961 and was taken home. He went to school the next day and didn't give it another thought. Astrid Kirscherr's mother suggested he go see the doctor as his condition grew worse, suffering regular debilitating headaches and a sudden sensitivity to light. The doctor ran a series of tests but found nothing out of the ordinary.
LEE DORSEY
Part of the reason the Beatles composed such timeless songs is because they loved rock 'n' roll music. Even while they played every night in Hamburg and clubs in and around Liverpool, they had their ears tuned to the radio, listening to all the biggest artists of the day. It's that appreciation for their peers that made them so good at what they did.

John Lennon with 12-year old son Julian on Drums, playing a short "Ya-Ya"
Irving Lee Dorsey was one of those artists whom the Beatles emulated. Born in New Orleans, he was a childhood friend of Fats Domino until his family moved to Portland, Oregon when he was 10. After serving during World War II, he returned home to become a reasonably good lightweight boxer in the early Fifties named Kid Chocolate. Apparently tired of having his face bashed in, Dorsey retired from boxing in 1955 and returned to his hometown where he opened an auto repair business. But music was always deep in his heart and he had a reasonably good voice, so to satisfy his muse, Lee Dorsey would moonlight by singing in nightclubs. One night in 1960, A&R man Marshall Sehorn walked into one of the clubs Dorsey was singing in and liked what he heard enough to secure him a recording contract with Fury Records, owned by New York record producer Bobby Robinson.
YA-YA – LEE DORSEY
Socializing within the inner circle of New Orleans musicians, Dorsey met A&R man and record producer for Minit and Instant Records, Allen Toussaint at a party. Twenty-two-year-old Toussaint and thirty-seven-year-old Dorsey became fast friends and soon were recording music together. Dorsey had already recorded a string of unsuccessful singles since 1958 with Fury, until one day, he was inspired to write "Ya-Ya" with Clarence Lewis and Morgan Robinson after watching a group of children singing nursery rhymes. He took it to Toussaint and he recorded Dorsey's first Top Ten Pop hit, reaching Number Seven on Billboard's US Pop chart and Number One in the R&B chart.
"Ya-Ya" has been covered by many other artists over the years, most notably by John Lennon when he released his "Rock & Roll" (1975) album due to a contractual obligation to Morris Levy. Lennon had promised to record a bunch of old rock 'n' roll songs owned by Levy. "Ya-Ya" was one of them. Lennon played the song with a stronger, faster edge, while still acknowledging the playfulness of the lyrics with the musical arrangement.
DO-RE-MI – LEE DORSEY
After a follow-up single similar to "Ya-Ya called "Do-Re-Mi" that stalled at Number 27 Pop and Number 22 R&B, Dorsey released an LP titled "Ya-Ya" in 1962 that didn't do very well either. He quickly fell from the charts for four years. During that interim, he returned to his auto repair business. In the meantime, Toussaint was drafted and served in the US Army from 1963 to 1965.
WORKING IN THE COAL MINE – LEE DORSEY
When Toussaint returned, he got Dorsey back into the music biz by asking him to record "Ride A Pony" in 1965. That and a couple of other recordings put Lee back in the charts during the mid-Sixties. He didn't enter the Top Ten again until 1966 with "Working In the Coal Mine", written and arranged by Toussaint for Dorsey.
"Working In the Coal Mine" is a song about suffering, not the type of blues lament for a lost love, but of a man breaking his back working down in a coal mine wondering how long his torture will last.
"Five o'clock in the mornin', I'm already up and gone, Lord I am so tired, how long can this go on? That I'm workin' in a coal mine, goin' down, down, down, workin' in a coal mine, whoops, about to slip down. 'Cause I make all the money, hauling coal by the ton, but when Saturday goes around I'm too tired for havin' fun…" Working in the Coal Mine – Lee Dorsey
Toussaint "…Coal Mine" has an instantly catchy beat, and Dorsey's version climbed to Number Eight Pop and Number Five R&B. It was also his first single to enter the Top Ten in the UK, reaching Number Eight as well.
"WITCM" has also been covered by various artists, most notably by the pioneer industrial alternative rock group Devo, who released their own version in 1981 as part of the animated movie "Heavy Metal". The single only made it up to Number 43 but its groundbreaking techno sound seems more appropriate for the song's theme.
Just like before, Dorsey released a follow-up single also produced by Toussaint called "Holy Cow". It only made it to Number 23. Dorsey also managed to release two LPs in 1966, "Ride Your Pony" and "The New Lee Dorsey", then dropped from the charts once again, only appearing a few more times in 1967 and 1969 with songs in the bottom portion of the Hot 100.
YES WE CAN – LEE DORSEY
In 1970, Toussaint produced Dorsey's next album "Yes We Can", whose title song was a Number 11 Pop hit for the Pointer Sisters in 1973 as "Yes We Can Can".
Among other covers include a version recorded by Toussaint himself in his later years.
Lee Dorsey recorded and performed sporadically after that, ultimately going on tour in the 1980s with James Brown and Jerry Lee Lewis. In 1980, he toured the US, opening for the Clash.
On December 1st, 1986, Lee Dorsey succumbed to emphysema at age 61. His young mentor Toussaint went on to work on several musical projects well into the 21st century until he died a legend on November 10, 2015.
THE BEACH BOYS

The Beach Boys in 1961. From left, Mike Love, Brian Wilson, Al Jardine and Carl Wilson.
Murry Wilson was a bitter man. He was a songwriter and piano player who longed to be famous but never achieved the recognition he felt he deserved. Coming from a poor background, he struggled all his life, and when his first son Brian was born, he had to take a job at Goodyear Tire & Rubber Company to make ends meet. Things didn't go well there. He lost an eye in an industrial accident to add to his struggle. For release, he turned to songwriting and achieved moderate success with a few songs he wrote, like "Two-Step Side-Step", which was performed by Lawrence Welk's orchestra on his radio show in 1952, and "I'll Hide My Tears", recorded by the doo-wop group the Jets at about the same time.
"[My father] had talent, he sure did. He was a talented man. He had some music in him … My favorite song of his was one called 'His Little Darling and You'. It was a ballad." –Brian Wilson
The Wilsons moved from their hometown of Inglewood, California to Hawthorne when Brian was two years old. Musical talent ran in the Wilson family. Little Brian was already developing a remarkable musical mind. As a baby, he could sing the lyrics to "When the Caissons Go Rolling Along" after Murry sang him the first two stanzas. Music touched Brian very deeply. George Gershwin's "Rhapsody In Blue" deeply moved him when he first heard it as a child. Realizing he had a musical prodigy on his hands, Murry encouraged Brian to explore his talent and was given a toy accordion as a child. When Brian was seven, Murry placed him in a church choir, where he was soon chosen to sing lead using his gorgeous falsetto, a voice that could reach wonderful high notes that would become the soundtrack for many Sixties summers.

The Beach Boys (left); Murry Wilson (right).
A strict disciplinarian to his sons Brian, Carl and Dennis, Murry Wilson let his frustrations out on them in the form of physical punishment, often beating them for minor infractions of family rules. He mostly humiliated Carl verbally but took to beating Dennis and Brian for self-perceived infractions. As the story goes, Murry Wilson once took a 2×4 and hit Brian in the head with it. They say that blow caused greatly diminished hearing in Brian's right ear, although others suggest the loss of hearing may have had another cause.
Always a sensitive child, his father's treatment of him affected Brian deeply. It would contribute to mental breakdowns later in life. Murry didn't stop being an asshole after his sons grew up either. Although he helped them land a recording contract and essentially launched the Beach Boys' career, Murry Wilson commandeered the group instead of managed them, declaring himself their manager and expecting no resistance. As the group's success grew, Murry began to harbor a deep resentment of Brian's talent, to the point that in 1966, at the height of the Beach Boys' success, Murry Wilson sold the rights to all their songs for $700,000 (about $5.2 million today) without consulting Brian, who had written them all.
Murry Wilson's own words betray his incredible dickishness towards his son Brian by portraying himself as a victim and putting Brian down every chance he can get. In an excruciatingly long letter written by Murry to Brian on May 8, 1965, his jealousy and painfully cruel parental manipulation is evident in every paragraph, such as these two:
"…In other words, Brian, the whole concept of my teaching my sons honesty in business was to try to make good men out of all of you, and I can't begin to remember the hundreds of times I was interfered with by my wife when I tried to make you all see the point I was trying to make; but I do know one thing, I can hold up my head in Hollywood and all over the world in the music as well as machinery business and you can't. No matter how many hit songs you write or how many hundreds of thousands of dollars you may earn, you will find when you finish this short cycle of Beach Boy success that you didn't do it honestly and for this reason, you are going to suffer remorse. I have been trying to fight you on every act of what I thought was not honest to protect you from yourself some five or seven years later; because I knew that when competition hit you between the eyes that you would not be able to cope with this vicious competition, regardless of how talented you are, because you got so much much too fast and the fact that you used your own father and then threw him away when you thought you didn't need him will come back into your mind over and over again.
I didn't mind so terribly much when you left our home to get an apartment, but the fact that you were ready to hit me in front of Gary Usher, when my wife and I were trying to get rid of Gary Usher and his evil influence on our family, did cause much hurt because you left fighting against your own family for the benefit of Mr. Usher and to his purposes and to your own selfish purposes and which you and Gary were scheming out. You may have forgotten how Gary told you I was a square and didn't know what I was doing and that you didn't have to listen to me, besides countless other derogatory remarks made by other people such as Bob Norman, Jan Berry, and the whole bunch. You would rather take the word of anyone against your father because you were taught to do this in your very early years as a young boy, hearing your mother tell me I was wrong in front of you, so I do understand what has caused some of your thinking." –Murry Wilson
************
Brian, Carl, and Dennis spent many evenings harmonizing in the bedroom they shared together. Brian would break down the background harmonies of songs by vocal groups like The Four Freshmen and teach them to his brothers to sing along. He would also break down the songs note by note on the piano, which he played obsessively every day after school. Soon, he started to involve other family members to harmonize with him like his mother, his cousin Mike Love and his sister, as well as any friend of theirs who'd be around and wanted to join in. Like his father, Brian too taught himself to play the piano and write songs, so when he received a Wollensak reel-to-reel tape recorder on June 20, 1958, his sixteenth birthday, that's all he needed to indulge in his insatiable musical curiosity. Among the songs he recorded harmonizing with assorted members of his family back then was "Sloop John B", a traditional Bahamian folk song that the Beach Boys would record in 1966 and release as a single.
Soon, Brian and cousin Mike ventured out to the spotlight together and enlisted two high school friends to play at dances for Hawthorne High School. Brian at the time was a popular student; he played baseball, ran cross-country and was even quarterback of the Hawthorne High football team. There, he met fellow football player Al Jardine, who had already played guitar in a band called The Islanders. Al would watch Brian, Carl and Mike perform at all those high school dances.
In September 1960, Brian enrolled at El Camino College where Al was also attending. The two often got together and spent their time in the college's music room working through harmonic ideas together. Al loved folk music, having mastered the guitar and banjo pretty well. Soon, the two spoke about forming a group together. Brian invited Al over to his home to discuss it with his two brothers and his cousin Mike Love. Al tried to get them to be a folk group but Brian and all the others preferred rock 'n' roll. Love suggested the name The Pendletones for the group, a combination of the word "pendleton" which was the name of a woolen shirt that was popular at the time, and "tone" a musical term, much like the Beatles had done with "beat" and "beetles". The group unanimously agreed.
The next step was to write songs. Everyone looked at Brian for that, even though cousin Mike could also write, but they didn't know what to write about. They wanted to sing about something other than all love songs. Dennis, the only surfer in the family, suggested the sport as a theme. They all agreed, knowing that surfing was big, especially in Southern California. Brian worked with Mike on writing the song that would start them off on their career. Together, they came up with "Surfin', a mix of doo-wop and rock 'n' roll sung with the harmonies that would soon make them famous.
The Wilson brothers' parents, Murry and Audree had decided to spend a vacation in Mexico City over the Labor Day weekend in 1961 and left them with emergency money for the days they would be away. Having just finished writing "Surfin'", Brian spent all that money on renting amplifiers, a microphone and a stand-up bass for Jardine to play. The fledgling group spent two days straight rehearsing the song so when his parents returned, they could audition the song to his father.
At first, Murry said nothing, berating Brian instead for having spent the emergency money on such nonsense. But after stewing and mulling over it a while, he realized his boys were good and was duly impressed at their songwriting talent as well as their entrepreneurship, although he would never admit to it. That's when Murry proclaimed himself their manager and told them that if they wanted to have a real record, they should begin rehearsing in earnest while he finds them a record label. Brian set out to write in earnest. One of his first songs he ever wrote was a melody loosely based on "When You Wish Upon A Star". It would be recorded two years later as one of the Beach Boys' most beautiful tunes, a Number One song called "Surfer Girl".
The Pendletones followed Murry Wilson's instructions and soon Murry introduced the group to his own music publisher, Hite Morgan. In the fall of 1961, they auditioned for Morgan and played two songs. The first one was a ballad that had been sung by the Four Freshmen called "Their Hearts Were Full of Spring". Morgan was duly unimpressed. The second song they performed for him was their original composition "Surfin'". Although Morgan didn't really like the sound, he recognized that the boys had hit on two very popular themes: rock 'n' roll and surfing. Morgan made some calls and soon arranged a recording session for them to release their song on Candix Records.
SURFIN' – THE BEACH BOYS
"Now the dawn is breaking and we really gotta go, but we'll be back here very soon that you better know, yeah my surfer knots are rising and my board is losing wax, but that won't stop me, baby 'cause you know I'm coming back…" Surfin' – The Beach Boys
The Pendletones recorded two surfing songs at Keen Recording Studio in October 1961. Murry took the demos to Herb Newman, owner of Candix and Era Records. Upon listening to "Surfin" and the song that would become the record's b-side, "Luau", Murry Wilson was able to land for his children something he was never able to acquire for himself, a recording contract.
The group was signed to Candix Records on December 8, 1961, and they promptly recorded professional versions of the two songs. When the records were pressed and the first box was sent to the Pendletones, they eagerly ripped open the box to see their first record for themselves. Much to their surprise, their band name had been changed from the Pendletones to the Beach Boys. Someone in the record label had decided that the group's name had little to do with what they were singing about and thought a name more closely associated with the theme would be more appropriate. Originally, the record label intended to change the group's name to The Surfers, but Russ Regan, who worked for Era Records as a promoter, informed them there was already a group with that name. Regan, who would later go on to become President of 20th Century Fox Records, suggested the name change.
And thus, the Beach Boys were born.
KEITH MEETS MICK
"You know I was keen on Chuck Berry and I thought I was the only fan for miles, but one mornin' on Dartford Stn…I was holding one of Chuck's records when a guy I knew at primary school 7-11 yrs y'know came up to me… anyways the guy on the station, he is called Mick Jagger and…is the greatest R&B singer this side of the Atlantic and I don't mean maybe. " -18-year-old Keith Richards' letter to his Aunt Patty
That pretty much sums up their first meeting, although it's been largely told the other way around, that Mick was carrying blues records and Keith was carrying his guitar. The quote above is taken from a letter confirmed to be written by Keith Richards', so I'm inclined to believe the evidence. The fact that Richards doesn't mention if he was carrying a guitar or not doesn't mean he didn't, so I'm assuming he did, or else Mick wouldn't have asked him to join his group.
Keith Richards was 17 when he met the 18-year-old Michael "Mick" Philip Jagger on the morning of October 17, 1961, at Dartford Station in Kent. Mick was on his way to the London School of Economics and Keith, carrying his Hofner cutaway electric guitar, was headed to Sidcup Art College when they recognized each other as having been classmates at Wentworth Primary School. As they boarded the train together, they spoke of the music they loved. Mick was indeed heavily into blues music and Keith was a rock 'n' roller. By the end of their trip, Keith had agreed to join Mick's band, Little Boy Blue and the Blue Boys. That band was short-lived, gratefully, because that name had to go, but Mick and Keith remained friends, bound by their mutual love of music. They decided to work together in finding another band to play in. It would be the following year, 1962, when Mick answered an ad in Jazz News, a Soho club information sheet from another young musician by the name of Brian Jones who was inviting musicians to audition to form a new R&B group.
…TO BE CONTINUED IN THE HISTORY OF ROCK 'N' ROLL 1962