RAY CHARLES – MOTOWN: MARVIN GAYE – MARY WELLS – THE TEMPTATIONS – THE SUPREMES – THE MIRACLES – LITTLE STEVIE WONDER – JOHN LEE HOOKER
by Robert Seoane
RAY CHARLES
You take country music, you take black music, you got the same goddamn thing exactly." -Ray Charles
Ray Charles took pop music to the next level in 1962 when he released his landmark, although clumsily titled album, "Modern Sounds in Country & Western Music". By blending two genres, Charles became the soul equivalent to Elvis. Elvis was the King of Rock 'n' Roll because he best knew how to sing blues songs in his own rock 'n' roll-tinged C&W style. Ray Charles, on the other hand, knew how to sing C&W tunes in his own style, by incorporating blues, jazz, R&B and big band to his recordings, particularly those in "MSIC&WM". Nobody had ever heard country songs sung quite this way before.
Ray Charles was one of the first pop musicians to be inducted into the Rock 'n' Roll Hall of Fame. His song "I Got a Woman", released in 1955, is considered one of the first rock 'n' roll songs ever composed, and was given the stamp of acceptance when Elvis recorded it the following year. Charles' subsequent musical output ran the gamut in styles, from R&B with one of 1959's biggest hits, "What'd I Say" to the following year's gospel-tinged recording of the 1930 classic, "Georgia". His tastes and musical experimentation covered a wide variety of musical genres.
******************
Ray Charles Robinson was born in Albany, Georgia, only because his mother Aretha Williams got pregnant with Ray by Bailey Robinson in Greenville, Florida, and the boy's family needed to banish her temporarily to another town because the two weren't married. Retha was a teenage orphaned sharecropper who lived with the Robinsons. She returned to Greenville after Ray was born, but Bailey Robinson wasn't keen on maintaining a family and ultimately abandoned them by leaving Greenville and taking another wife, all but ignoring Retha and his children until his death when Ray was 10 years old.
Retha moved to St. Augustine with 5-year-old Ray and his three-year-old brother George in 1936. Ray's childhood was subsequently one of deep poverty and enduring terrible tragedies. At age 5, he helplessly watched his brother drown in a washtub after his mother left him alone for a moment. It would be one of the last images he would ever see before losing his sight to glaucoma, and it became a memory that would haunt him for the rest of his life. By age 7, Ray Charles Robinson was completely blind.
Retha, still trying to cope with the death of her son George, refused to treat Ray any differently despite his handicap. She was tough on him, taught him to fend for himself by giving him chores and allowing him to walk through the neighborhood without help. "I'm not going to be here forever", she would tell her young son.

Ray Charles, second from left, with his mother Retha
Retha saw Ray's natural musical talent so she enrolled him into St. Augustine's School for the Deaf and Blind where he studied piano, saxophone and clarinet as well as classical music. He learned to read music in braille, playing pieces by Bach, Mozart and Beethoven. His personal preferences were more mainstream however. The music he grew up with and dearly loved was gospel, R&B, blues, jazz and country.
Becoming self-sufficient was good training for the young blind boy, because his mother's words proved prophetic. Charles' mother died when he was 14, effectively leaving Ray alone in the world. He was taken in by a family who had been friends with her and together, they moved to Jacksonville. Ray felt lost without his mother and soon began to dabble with drugs, particularly heroin, to relieve the pain of loss he had to endure daily.
Three years after his mother's death, seventeen-year-old Ray Charles Robinson decided to go on the road and be a musician. He dropped his last name and called himself Ray Charles to distinguish himself from boxer Sugar Ray Robinson, and played piano for bands in Jacksonville, Orlando and Tampa. It was during this time that he started to wear sunglasses, a specific type made by designer Billy Stickles, to conceal his eyes onstage.
His reputation soon grew as he started to write arrangements for other artists like Dizzy Gillespie's "Emanon", but despite this steady rise of acknowledgement, Charles struggled, sometimes having no money to eat for days. In 1948, he decided to focus on his ambition to have his own band and perform his own music. The only way he could attain that, he figured, was to move to a big city where he'd be more likely to gain larger fame and success. A friend of his named Gossie McKee was planning to move to Seattle, Washington so Ray decided to tag along, where they would form a band together. In Seattle, he met a fifteen-year-old boy who would become one of his closest friends, Quincy Jones.

The McSon Trio; Ray Charles, keyboards, Gossie McKee, guitar and Milton Garrett, bass.
Charles' band with McKee was named the McSon Trio ("Mc" from McKee and "Son" from Robinson) when they added Milton Garrett on bass. They played the morning shift, from 1AM to 5AM every night at a place called the Rocking Chair. Jack Lauderdale of Down Beat Records heard them there one morning and offered to record them the very next day. The result of that recording session were two songs, "Confession Blues" and "I Love You, I Love You". Ray Charles' first vinyl recordings misspelled the band's name, calling them the Maxin Trio, and had him billed as R.C. Robinson. "Confession Blues" was Charles' first Top Ten R&B hit, reaching Number Two in the US R&B chart in 1949. It would be the first of six single releases for Down Beat.
Charles was able to land himself his own recording contract in the meantime and for the next four years, the McSon Trio would record for Down Beat and the Ray Charles Trio would record for Swing Time Records. The Ray Charles Trio released 14 singles through Swing Time, and two songs made it into the R&B Top Ten, the blues classic "Baby Let Me Hold Your Hand" at Number Five in 1951 and an early rock 'n' roller, "Kissa Me Baby" at Number Eight in 1952.
During this period, his career grew steadily. He moved to Los Angeles in 1950 and there, became musical director for blues artist Lowell Fulson, where he caught the ear of a young Turkish man who had emigrated with his father and brother to the United States when he was twelve and was now a record producer and label owner.
"I began to discover a little bit about the situation of black people in America and experienced immediate empathy with the victims of such senseless discrimination, because, although Turks were never slaves, they were regarded as enemies within Europe because of their Muslim beliefs." –Ahmet Ertegun
Ahmet Ertegun's love for R&B music led him to Ray Charles. Co-owner of Atlantic Records with Jerry Wexler, Ertegun bought Charles' contract from Swing Time after the label folded for $2500 (about $22,500.00 in 2017 dollars). It was during his years with Atlantic that Charles enjoyed his biggest success in the R&B chart with 17 Top Ten singles from 1952 to 1960, including the rock 'n' roll standard "I Got A Woman". He barely made a dent in the Pop Billboard charts however, except for his biggest success at Atlantic, "What'd I Say" which peaked at Number Six.
By 1960, Ray Charles had become one of the few African-Americans to have successfully crossed over to be accepted by the mainstream white audience. He signed with ABC Records that same year after negotiating one of those most lucrative recording contracts in the music business up until then. The contract stipulated an annual $50,000 ($400,000 in 2017 dollars) advance, higher royalties than what he was receiving at Atlantic, and most importantly of all, complete artistic control, along with eventual ownership of all his recordings. It was at ABC where he would gain his biggest audience, and where he would do the opposite of what most artists do, abandon writing his own compositions and deciding to focus instead on interpreting other songwriters' work.
It was little wonder why Ray Charles had been nicknamed "The Genius" by Atlantic, when he released his first ground breaking albums "The Genius of Ray Charles" (1959), "The Genius Sings the Blues" (1961) and "The Genius After Hours" (1961). ABC Records continued describing him in the same way with his debut album for the label "The Genius Hits the Road" (1960) and an all-instrumental album released by subsidiary label Impulse!, "Genius + Soul = Jazz"(1961).
His first single with ABC, "Georgia" was written by Stuart Gorell and Hoagy Carmichael in 1930. It had been covered by many artists since, but Ray Charles's version is the definitive one. He received two Grammys for his classic interpretation of the song, and his version ultimately became Georgia's state song in 1979. His next big hit, "Hit the Road Jack" (1961), was written by Percy Mayfield. Charles received a Grammy for that song too.
That same year, Charles began touring with a big band, a far cry from the trio ensemble he had been used to performing in all his career. His taste for drugs hadn't abated though, and he was briefly arrested when police found heroin after a questionable search of his dressing room. Luckily for Charles, the case was dismissed because the police had performed the search without a proper warrant. Although this was a flagrant violation of Charles' civil rights, it wasn't a set-up, but a real heroin addiction. Despite the growing monkey on his back, Charles' muse was as refined as ever, entering a new phase in his musical experimentation. Ray asked his producer Sid Feller to research country standards through the largest country music publishers in the nation. Feller ultimately sent Charles in Los Angeles 250 songs from publishers such as Acuff-Rose who owned the Hank Williams library.
The musical experimentation Charles wanted to do for his fifth studio album for ABC was a controversial decision, receiving negative commentary by critics as well as his peers over the unusual direction a black soul singer wanted to take. But Charles' artistic control gave the label no other choice other than to trust his instinct, and it's a good thing they did, for the sake of today's popular music.
In "Modern Sounds…" Charles took traditional country songs and interpreted them using contemporary, state-of-the-art production. Ray had complete control. He distributed voice-and-piano demos to his jazz arrangers Gerald Wilson and Gil Fuller, and orchestral arranger Marty Paich, and at times even dictated specific parts to all 18 backing musicians individually.
Ray Charles' philosophy seems second nature today, but during the mid-Twentieth Century, America had been saturated with decades of mostly white-washed, cleaned up entertainment. Mixing C&W with R&B would prove to be a profoundly influential formula that was almost immediately accepted by a large and varied audience, and would mark the beginning of further experimentation by other artists over the ensuing decades.
"[T]he words to country songs are very earthy like the blues, see, very down. They're not as dressed up, and the people are very honest and say, 'Look, I miss you, darlin', so I went out and I got drunk in this bar.' That's the way you say it. Where in Tin Pan Alley will say, 'Oh, I missed you darling, so I went to this restaurant and I sat down and I had dinner for one.' That's cleaned up now, you see? But country songs and the blues is like it is." –Ray Charles
Modern Sounds in Country & Western Music became the most successful album by a black artist at the time, and immensely popular in the Pop, R&B and C&W charts. It shipped 500,000 copies in the first three months after release, earning a gold record and comparable to only Elvis Presley in sales clout. On June 23, 1962, it replaced the West Side Story soundtrack from the Number One position on Billboard's Top Pop Albums chart. The album was also nominated for a Grammy as Album of the Year, but shortsightedly lost over a comedy album called "The First Family" by comedian Vaughan Meader that poked fun at the Kennedy family. Notwithstanding the lapse in the Grammy Award committee's vision, "Modern Sounds…" was so successful that only a few months later, in September, 1962, a sequel to the album, titled "Modern Sounds in Country & Western Music Vol. 2" was released to equal critical and popular success. The following are the highlights from both albums.
MODERN SOUNDS IN COUNTRY & WESTERN MUSIC – RAY CHARLES
BYE BYE LOVE – THE RAY CHARLES
The opening track was a country-inflected rock 'n' roll tune that was made first popular by the Everly Brothers in 1957. Charles turns it into a big band jazz piece with contemporary flourishes rooted in R&B along with Charles' brilliant piano playing, encased in a Forties big-band arrangement.
I CAN'T STOP LOVING YOU – RAY CHARLES
The first single off the "Modern Sounds…" album was a popular country tune first written by C&W singer/songwriter Don Gibson in 1957. It was released as a b-side the following year along with a tune called "Oh, Lonesome Me", also recorded by Charles for release in the sequel to this album, Gibson's version of "I Can't Stop Loving You" got just as much airplay as "Oh, Lonesome Me" when first released, so much so that the single became a double-A sided hit.
Four years later, Ray Charles recorded it and made it all his own. It reached the Number One spot in Billboard's Pop, R&B and Country chart, as well as topping the charts in the UK as well. Charles' version is a heartfelt performance and feels more contemporary than its predecessor, despite the traditional vocals. Gone is Gibson's twangy country guitar, replaced by Charles' piano. After so many hits in the Fifties, Ray Charles managed to top himself once again with this beautiful recording. In 1972, Charles performed it on the Dick Cavett Show and dedicated to his girlfriend, existent or not, along with his background singers, The Raelettes.
YOU DON'T KNOW ME – RAY CHARLES
The second track of the album was also the second song released as a single. It was written by Cindy Walker particularly for singer Eddy Arnold as gratitude for inspiring her to write the song in the first place. Singer Jerry Vale however, got hold of it first and released his own version two months before Arnold's in 1956. Vale's version charted higher than Arnold's too, making it to Number 14 on Billboard's Pop chart. Arnold's version didn't make it into the Pop chart, but did manage to reach Number Ten on Billboard's C&W chart.
As the story goes, Eddy Arnold suggested the title "You Don't Know Me" to Walker, explaining the concept behind it and suggesting she think about it before attempting to write it. "The song just started singing. It sort of wrote itself…", Walker said.
The song is inherently a very pretty one, but again, Ray Charles' sings the definitive version. His version of "You Don't Know Me" reached Number Two on Billboard's Pop chart in 1962.
I LOVE YOU SO MUCH IT HURTS – RAY CHARLES
Ray Charles' version of Floyd Tillman's 1948 "I Love You So Much It Hurts" is beautifully interpreted with a traditional lush orchestration backing Ray Charles' heartfelt, soulful baritone. His vocal delivery makes you feel the sweet pain of his love, encompassed in lazy violins and angelic background vocals.
The most popular, original version of this song was recorded in 1949 by Jimmy Wakely. His interpretation is indeed rooted in traditional C&W folk. It's a mono recording with only guitar and a small instrumental backing. It doesn't stand a chance when comparing it to Ray Charles' version.
YOU WIN AGAIN – RAY CHARLES
Charles chose two Hank Williams songs to record for "Modern Sounds Vol 1". You can hear the country longing in the melody as Ray sings "You Win Again", but Charles' vocal inflection is so uniquely his, drawn out and from the heart, that he does indeed manage to beautifully display the timelessness of the melody.
The song, written in 1952, is about a man who lost the love of his life. Hank Williams recorded it the day after his divorce was final with Audrey Sheppard. Williams originally titled his composition "I Lose Again", but at the insistence of his producer Fred Rose, he reversed it.
HEY, GOOD LOOKIN' – RAY CHARLES
As in the opening track, Charles ends on a high and returns to his big band style on the closing track of the album, allowing himself to truly dance all over the keys in an extended piano solo that showcases his amazing piano-playing prowess, ending the album with the listener wanting more.
Written in 1951, "Hey, Good Lookin'" is probably one of Williams' best known songs. Besides Charles' recording, the song has been ubiquitous since its release in everything from variety shows to TV commercials. Williams wrote it in twenty minutes during a plane ride, intending to give it to a friend of his, Jimmy Dickens, who needed a hit. But after writing it, he recorded it for himself and telling Dickens jokingly that "this song's too good for you."
MODERN SOUNDS IN COUNTRY & WESTERN MUSIC VOL. 2 – RAY CHARLES
YOU ARE MY SUNSHINE – RAY CHARLES
The first track on the "Modern Sounds…" sequel album, "Vol. 2", was also the first single off it, released in the Fall of 1962. His version sounds nothing like the original, more so than any of the other tracks in the first album. It's rooted in a blend of blues, big band and R&B, with a staccato beat that changes the entire sound of the tune. It's unmistakable Ray Charles, and as the opening track, promises more surprising experimentation with other traditional songs.
"You Are My Sunshine" is also one of the oldest songs among Charles' selections, written in 1939 by Jimmie Davis and Charles Mitchell. It also became Louisiana's state song by virtue of the fact that co-writer Davis was once governor of that state. Originally a country song, it's been played and recorded so many times by so many other artists that it's incorporated practically every music style there is, from Bing Crosby's crooned version to Charles' soul jazz to Lawrence Welk's lush orchestration and many others in between. We're still waiting for the hip-hop version.
OH, LONESOME ME – RAY CHARLES
Charles returns to big band jazz on "Oh, Lonesome Me" with a wailing sax solo. The genre suits the song well, originally written by Don Gibson, who also wrote "I Can't Stop Loving You."
The country version also contains the bouncy, happy feeling of Charles' rendition, despite the fact that the lyrics are about a man whose woman walked out on him. Charles replaced the country guitar with a brass arrangement.
TAKE THESE CHAINS FROM MY HEART – RAY CHARLES
"Take These Chains from My Heart" opened side two of "Vol. 2" and was also the second single off this album to enter the Billboard charts. It made it Number Three C&W, Number Seven R&B and Number Eight Pop in 1963.
It was originally written by Fred Rose and Hy Heath for Hank Williams as one of his final recordings in 1952. It was a posthumous Number One country hit for Williams in 1953 after he died suddenly on New Year's Day.
YOUR CHEATIN' HEART – RAY CHARLES
Ray Charles released "Your Cheatin' Heart" as a single after "You Are My Sunshine" but it only made it into the Top Ten in the C&W chart at Number Seven, while reaching Number 29 Pop and Number 23 R&B.
"Your Cheatin' Heart" was also taken from the Hank Williams songbook, and is considered a country standard. The fact that Ray Charles recorded this song with an R&B feel bridges the two genres together like no other song can. Williams wrote this song about his own wife Audrey during a turbulent time in their relationship. The single was released on January 1, 1953, the day Williams died at age 29 from a mixture of sedatives and alcohol. The song became an instant nationwide hit.
"Modern Sounds in Country & Western Music, Vols. 1 & 2" was Ray Charles' pinnacle, both creatively and commercially. After this album, he only scored two more singles during his career in the Billboard Pop Top Ten with "Busted" (#4) in 1964 and "It's Crying Time" (#6) in 1966. His next two albums, "Ingredients In A Recipe For Soul" (#2, 1963) and "Sweet & Sour Tears" (#9, 1964) were the last two albums of his to make it to the Top Ten LP chart until forty years later in 2004 with Ray Charles' final studio album, "Genius Loves Company". During the interim, Charles battled and successfully conquered his drug addiction, and enjoyed a long career recording and performing around the world.
One of Ray's most notable recordings occurred in 1986 with Billy Joel. Joel and Charles shared lead piano and vocals on "Baby Grand", one of the songs from Joel's album "The Bridge". Ray Charles contacted Billy Joel soon after Joel's daughter's birth, Alexa Ray, to express his appreciation for naming her after him. On the phone, Charles suggested they do a song together. The song, written overnight by Billy Joel, perfectly captures the music Ray Charles has lovingly interpreted for the world, bluesy and soulful, and all about an instrument they both shared, the piano.
"Ray Charles was my hero when I was growing up. As big of a pianist or as big of a star I could ever become, I could never be Ray Charles." –Billy Joel
Ray Charles Robinson died on June 10th of that year at age 73 and left behind a musical legacy that shaped popular music to this day.
MOTOWN
In 1962, the Motown family began to coalesce. Motown's founder Berry Gordy made William "Smokey" Robinson Vice-President of Motown Records. Together, they groomed a growing stable of musical artists, writing songs and overseeing the production of all their recordings. Smokey not only wrote for other artists; he also led his own band, the Miracles, who had already scored a Number One R&B hit (Number Two Pop), Motown's first, in 1960 with "Shop Around".
As talented as they were, the two were spreading themselves thin. Gordy knew they needed more songs, so he sought out young, up and coming talent within their own walls to assist in writing pop hits. It wasn't a difficult task to find them, primarily because African-American talent had heard what was going on in Detroit, so they flocked to the Motown headquarters building, dubbed "Hitsville U.S.A.", seeking fame and fortune. In fact on most days, these musicians and artists would spend their days on Hitsville USA's front lawn, tossing a football or otherwise chatting on the stair steps as they wait for an opportunity to record even a background vocal.
HOLLAND-DOZIER-HOLLAND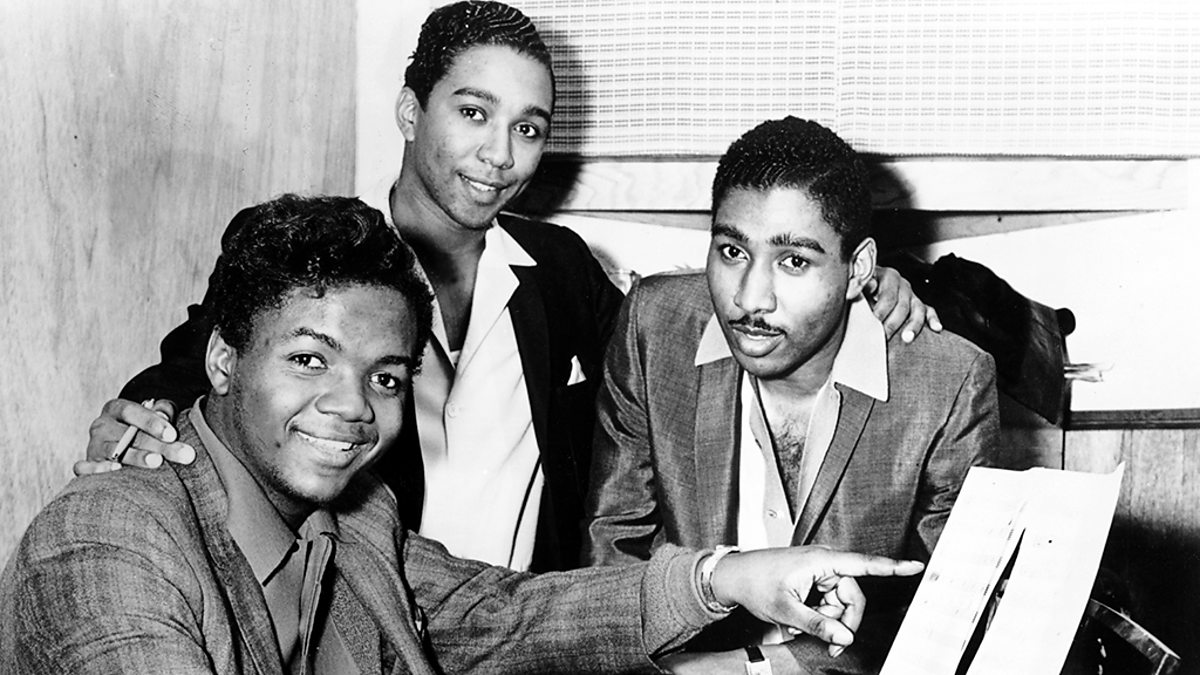 From left, Lamont Dozier, Eddie and Brian Holland
"Yes, it was a job, but we loved the job. We really did sit there and work all day at coming up with this song, that melody." –Brian Holland (rockhall.com)
Eddie Holland had been working with Berry since the Motown label was founded in 1959. Groomed to be a recording artist, Holland released several singles between 1959 and 1964, with a song called "Jamie" being the only single of his to break the Billboard's Top Thirty. Because he suffered from stage fright however, performing live proved not to be for him.
Eddie's brother Brian was brought on board shortly thereafter as a staff songwriter. He had successfully co-penned the Marvelettes' chart-topping "Please Mr. Postman" in 1961, giving him the clout and respectability he needed to get Gordy's attention.
Brian also tried performing, joining Motown groups called the Fidalatones, then the Satintones and finally as part of a background vocal quartet called the Rayber Voices from 1960 to 1962 before calling his singing career quits. Brian, like his brother, also felt he belonged behind the scenes as a songwriter and began collaborating with fellow staff songwriter, Lamont Dozier, who had been a recording artist for Berry's sister, Anna Gordy's "Anna" label before joining Motown.
In 1962, brother Eddie gravitated towards Brian and Lamont Dozier and the three began to write songs together. Gordy watched their talent develop and the following year, asked them to write for the struggling Supremes. The result was "Where Did Our Love Go", the first huge hit for HDH and the famed girl group. Soon, Gordy had HDH write for other Motown artists. Ultimately, the trio were responsible for writing many of Motown's biggest hits, such as "Heatwave", "Can I Get A Witness", "Baby, I Need Your Loving", "Baby Love", "Come See About Me", "How Sweet It Is (To Be Loved By You)", "Stop! In The Name Of Love", "I Can't Help Myself", "It's the Same Old Song", "You Can't Hurry Love", "Reach Out I'll Be There", "You Keep Me Hanging On", "Standing In The Shadows Of Love"… virtually every Motown classic smash hit of the Sixties. Besides the Supremes, their songs were recorded by Motown's biggest stars including Martha Reeves & The Vandellas, Marvin Gaye, The Four Tops and the Temptations. The team, known professionally as Holland-Dozier-Holland, were inducted into the Songwriters Hall of Fame in 1988 and the Rock & Roll Hall of Fame in 1990.
************
Berry Gordy and Smokey Robinson realized that it wasn't enough to release records to radio and hope they catch the pop ear. In 1962, they decided to put together their first tour outside the usual Detroit appearances, so they booked gigs throughout the Eastern and Southern parts of the United States and dubbed the tour "the Motortown Revue". One evening's performance of the revue typically included the Miracles, Martha & the Vandellas, The Supremes, The Temptations, Marvin Gaye, Little Stevie Wonder, Mary Wells, the Contours and the Marvelletes. Most of them hadn't racked up any chart hits yet but the tour was designed to make them known to a broader market.
MARVIN GAYE
Marvin Pentz Gay Jr. would finally come to his own in 1962, despite the fact that he was being called "the least likely hit maker" within his own label, particularly because the kind of music Marvin wanted to record were old standards that were totally out of touch with the burgeoning Motown sound.
THE SOULFUL MOODS OF MARVIN GAYE – MARVIN GAYE'S DEBUT LP
Gaye had already released his debut album in the Summer of 1961, but "The Soulful Moods of Marvin Gaye" didn't get much attention. Gordy and Gaye had clashed in terms of the musical direction of the record. Gordy wanted him to sing catchy pop songs for the teen radio listening audience, but Gaye saw himself more as a crooner a la Nat "King" Cole, Ray Charles or Frank Sinatra. In the end, Gordy relented and allowed Gaye to record songs that were made popular by the likes of Sinatra, and some written by Cole Porter and Irving Berlin. Gaye added nothing new to his interpretations of these old classics, and the production was pretty uninspired throughout the whole album. "Soulful Moods…" was mostly made up of slow ballads, with maybe two more uptempo pop songs as a compromise to Gordy. In the end, Gordy was proven right, as the album never entered the Billboard Pop Album chart.
LET YOUR CONSCIENCE BE YOUR GUIDE – MARVIN GAYE
Gaye's first single from the album, "Let Your Conscience Be Your Guide" was written by Gordy specifically for Marvin, but it also failed to become a hit. It was a slow, well-sung, bluesy number that appealed to Gaye but apparently, not anyone else. The only notoriety the record can claim is that it was Marvin's first record with his last name spelled the way he would always be known. Just before the single was to be released, Marvin added an 'e' to his surname, reasoning that Sam Cooke had done the same thing, not only because he was being teased as to the homosexual association of his "Gay" surname, but also because he wanted to distance himself as much as possible from his domineering, abusive father.
BEECHWOOD 4-5789 – THE MARVELETTES
As 1962 dawned, Gaye busied himself recording and performing as well as writing songs for other Motown artists, many times joining them as a session musician, playing drums for the Miracles, Little Stevie Wonder and the Marvelettes' performances and recordings. Gaye wrote "Beechwood 4-5789" with William "Mickey" Stevenson and Berry Gordy's brother George for the Marvelettes, which managed to climb to Number 17 in Billboard's Pop chart and Number Seven R&B in the Autumn of 1962.
Gaye continued to record singles as a solo artist, but bristled at the idea of having to go to grooming class at John Roberts Powers School for Social Grace in Detroit as Berry had instructed him to do. He later regretted the decision to not attend and realized he needed to start trying it their way. He began to take advice from those in the label who saw him perform, particularly changing his habit of closing his eyes when he sang because it appeared to the audience that he was sleeping. Slowly but surely, his stubbornness gave way and he came around to recording the type of music Gordy felt would make him a success.
The first two singles Gaye released in 1962, "Sandman" and "Soldier's Plea", also failed to enter the Pop or R&B chart. It took his fourth single release "Stubborn Kind of Fellow", to finally introduce Marvin Gaye into the charts as a solo artist. "…Fellow" was a Top Ten Billboard R&B hit, reaching Number Eight. It also managed to break the Pop Hot 100 by climbing up to Number 46 in the Summer of 1962.
STUBBORN KIND OF FELLOW – MARVIN GAYE
Co-written by Gaye, George Gordy and Stevenson, the title of his breakthrough hit was quite appropriate in describing Gaye's demeanor, but the song itself was an R&B pop song, not an old creaky standard, and a good one at that. Gaye had realized finally that if he wanted to be a successful crossover artist, he would have to start singing R&B. Marvin had to force himself to learn to accept advice from those in the know, particularly Berry Gordy.
"Berry heard me playing ("Stubborn Kind of Fellow") …on the piano. He came over and he said something to the effect of, 'I like that melody but can you do something else with it.' That was my first power encounter with him. I remember he wanted me to change some chords. I had a brief argument with him as to why I thought it should remain the way I wrote it. In any event, I changed things his way." – Marvin Gaye
Martha Reeves of the Vandellas sang background in "Stubborn Kind of Fellow" as Gaye delivered the song with a strong growl, desperately trying to separate himself from the crooning talents he had displayed on his failed debut album. His heartfelt "say, yeah, yeah, yeah" open and hook sets the mood for a strong blues pop number. Released on July 23, 1962, Gaye was pleased to see that he had finally cracked the R&B Top Ten chart at Number Eight, but was disappointed that it didn't make it into the Pop Top Forty, climbing only as high as Number 46. Encouraged by the acceptance he was receiving singing R&B, his next single would chart even higher for him.
HITCH HIKE – MARVIN GAYE
Co-written with Stevenson and Clarence Paul, "Hitch Hike" would take Marvin Gaye into the Pop Top Forty, reaching Number 30. The record also climbed to just short of the Top Ten R&B at Number 12. The dynamic song inspired a dance that Gaye would showcase when performing the song on TV shows of the day such as American Bandstand and the T.A.M.I. Show, where he would extend his thumb in a hitchhiking motion as he danced. Again, Reeves and her Vandellas provided the background vocals.
Gaye went on tour with the rest of the Motown artists in their first Motortown Revue in October of 1962, where he would showcase his two hit singles as part of his repertoire. The tour covered the "chitlin' circuit" a swath down the Eastern and Southern coast of the United States where it was acceptable for "negro" musicians to play in racially segregated areas. He was also busy recording his second album, titled after his first hit single, "That Stubborn Kind of Fellow". The album included the title song as well as his other singles "Hitch Hike" and "Soldier's Plea". All the other tracks were either co-written by Gaye or his songwriting partner Mickey Stevenson.
Gaye had ultimately abandoned his idea of jazz standards. It was the right move if he wanted to be famous. The second track on Side One of his second album would be his next single, to be released in early 1963. It was called "Pride and Joy" and it would be his first record to enter Billboard's Pop Top Ten. Despite his stubborn personality, Gaye ultimately listened, and as a result, went from being considered Motown's "least likely hit-maker" to one of the labels most legendary artists who set a new standard in 1971 when he released his landmark album "What's Going On". But throughout the Sixties, he would steadily climb in popularity, becoming one of Motown's most profitable and famous artists.
MARY WELLS
Motown was beginning to chart consistently in 1962. Besides Gaye's two solo hits and the Marvelettes' "Beechwood 4-5789" both of which made it into the Top Forty, Motown Vice-President and Miracles lead singer Smokey Robinson wrote "The One Who Really Loves You" for Mary Wells. Reminiscent of another 1962 hit "The Loco-Motion" by Carole King, the record made it to Number Eight Billboard Pop and Number Two R&B.
Soon after, Robinson wrote "You Beat Me To the Punch" for Wells and that did similarly in the Pop chart, climbing to Number Nine. It did however, manage to make it to the top in the R&B chart, giving Wells her first Number One R&B single. It also gave Motown its first Grammy nomination for Wells' song in the Best Rhythm & Blues Recording category.
Mary Wells' third single, also written by Robinson, was "Two Lovers", a rather risqué song for 1962 with lyrics suggesting polygamy until the song reveals in the end that her two lovers are the same person.
"Darling, Well, don'tcha know that I can tell whenever I look at you, that you think that I'm untrue 'cause I said that I love two, but I really, really do 'cause you're a split personality and in reality, both of them are you." "Two Lovers" – Mary Wells
It became her most successful single to date, reaching Number Seven Pop and, like her previous single, also climbed to Number One R&B. Having two consecutive R&B Number One singles and three Pop Top Tens, along with the Grammy nomination, gave Wells clout within the label, becoming the first female solo singer to have accomplished such a feat.
Motown had their first A-list pop star in Mary Wells. "Two Lovers" sold over a million copies and earned a Gold record. Her second album, "The One Who Really Loves You" was released in 1962 and also entered Billboard Top Ten Album chart, reaching Number Eight. As a result of this success, Wells was the headlining artist in Motown's Motortown Revue.
Although she was on top of the world at this point, Wells was still two years away from recording the biggest single of her career, "My Guy".
THE TEMPTATIONS
In 1962, the Temptations were still struggling to score a hit record. Having been signed to Motown the year before, they did manage to crack the R&B Top Forty in the Spring of 1962 when their first single of that year, "(You're My) Dream Come True", managed to climb to Number 22. The song was written by Berry Gordy, but it was an uneventful recording, and except for Eddie Kendricks' unmistakable lead falsetto, wasn't at all indicative of future Temptations classics to come.
The group released two more singles in 1962, "Mind Over Matter" and "Paradise". The latter also written by Gordy, but neither of them cracked any of the charts. For some reason only known to Gordy, he released "Mind Over Matter" through his new Mel-o-dy label and changed the Temptations' name to the Pirates. The group felt uncomfortable with the name change, and according to Temptations' member Otis Williams, it was the only time they prayed for a single they recorded to flop.
They were still two years away from their first significant hit single, "The Way You Do the Things You Do" but up until then, Gordy was struggling to find the group a hit song. He soon abandoned the Pirates moniker and called them the Temptations from then on, writing them another song, this time a surefire hit called "Do You Love Me". Gordy was very excited the day he finished writing it because he just knew it would be a hit, so he wandered through the Hitsville USA building in search of the group for them to record it immediately, but couldn't find them anywhere. Unaware of Gordy's intentions, the Temptations had gone to perform at a gospel music showcase in town that day. As Gordy looked for them, he bumped into members of another group he had recently signed called the Contours. Eager to record the song as soon as possible, Gordy offered "Do You Love Me' to the Contours on the spot.
Gordy's instincts were sound. The song was quickly released and managed to climb to Number Three Pop on October 20th, 1962 for three weeks, and Number One R&B at around the same time. It also holds the distinction of being the first rock 'n' roll single to have a fake ending, a technique the Beatles used in 1967 with "Strawberry Fields Forever", and ultimately sold over a million copies. It was the Contours' biggest and only hit. The Temptations had missed their chance to chart their first success.
Sixties British Invasion group and Beatle imitators the Dave Clark Five also recorded "Do You Love Me" in 1964, taking it to Number Six Pop.
In October 1962, Gordy dispatched the Temptations to join the Motortown Revue with all the other promising Motown artists. It was a good way to expose them to a live audience so the group could perform their smooth dance moves as the lead singer, either Paul Williams or Eddie Kendricks, crooned their current repertoire. Still smarting from losing out on "Do You Love Me", the group was committed to becoming a success and Berry Gordy would continue to try and find the right song for them.
THE SUPREMES

Florence Ballard, Diana Ross and Mary Wilson
Just as Marvin Gaye was known as "the least likely hit-maker" around the Motown offices, Diana Ross, Florence Ballard, Barbara Martin and Mary Wilson were also referred to there as the "No-Hit Supremes" in 1962. They had released their first two singles the previous year, "I Want A Guy" and "Buttered Popcorn", to no chart success. Things weren't too much different for them the following year, barely entering the Billboard Hot 100 chart with "Your Heart Belongs To Me". Still, a single in the charts was better than no chart activity at all.
Florence, Mary and Diana each had distinctively different vocal styles. Flo Ballard was the soul of the trio, singing ballads with a strong, deep voice steeped in blues. Mary Wilson had a softer voice and favored ballads. Diana Ross was the pop sound of the group, a little-girlish voice, soft yet strong and powerful when the song called for it.
The fourth Supreme, Barbara Martin, was an appendage soon to fall off. She was the replacement for the original founding member Betty McGlown, who happened to pick the name of the group only because she was the only one around at the time to ask. In January 1962, A recently married Barbara was already three months pregnant. Although her husband supported her being in the group, she decided to quit by the Spring of that year to focus on motherhood.

Clockwise from top, Diana Ross, Florence Ballard, Mary Wilson and Barbara Martin
Berry Gordy felt that Diana Ross' voice was the right sound for the group because she didn't sound black. He wanted all his Motown artists to have crossover appeal because he knew that was the only path to worldwide popularity and success, to eliminate the race card from the recording. The ethnicity of the person who was singing shouldn't be a barrier to acceptance of the song, so a voice that couldn't be stereotyped was an important key to crossover success. Diana, with her soft, lilting yet powerful voice, could deliver a pop song. There was only one problem that Berry had to deal with however. It seemed that Flo and Mary wanted equal turns singing lead. Ballard's voice had already been showcased on their last release "Buttered Popcorn", in August 1961. Mary was up at bat, but both Berry and Motown's new VP, Smokey Robinson had reservations.
YOUR HEART BELONGS TO ME/ (HE'S) SEVENTEEN – THE SUPREMES
Smokey Robinson had written "Your Heart Belongs To Me" for the Supremes' next single. After listening to each of their voices, Smokey decided on Diana to sing lead. It left Mary a bit miffed, who felt her turn to sing lead was skipped over.
"Your Heart Belongs To Me" has a dreamy, romantic quality that Ross' voice interprets to perfection. The single was released on May 8, 1962 and managed to break the Billboard Pop Hot 100, climbing up to Number 95. It was their first chart success and they felt encouraged. Interestingly enough, it didn't enter the R&B chart, somewhat legitimizing Gordy's ear believing Ross' voice lacked ethnicity.
Since this would be Barbara Martin's last recording for the group before her retirement, her image was kept off the single cover, introducing the Supremes from then on as a trio.
The flip side, "(He's) Seventeen", is a Fifties throwback and not a very good one at that. It pre-dates the spoken middle popularized two years later by girl groups like the Shangri-Las and their hit "The Leader of the Pack", but the lyrics for "(He's) Seventeen" were uninspired and the song was rightfully relegated to the B-side. This time, Barbara Martin shared lead vocals with Diana.
LET ME GO THE RIGHT WAY/THEM CHANGES THINGS – THE SUPREMES

Holland-Dozier-Holland with the Supremes
The Supremes follow-up single, "Let Me Go the Right Way" was written by Berry Gordy, and would be the last single he would produce for the group, handing over the production reins after this to the songwriting team of Holland-Dozier-Holland, who would go on to write and produce for the Supremes for the next five years, until 1967 when HDH left the Motown label.
Diana Ross once again sings lead, but the record didn't do too much better than the previous one, reaching only Number 90 on Billboard's Pop Top 100. It did manage to break into the R&B chart though, the Supremes' first single to do that, making it all the way to Number 26. Gordy felt that they were getting there but just needed a little push, so he booked him into the October 1962 Motortown Review along with many of Motown's best.

The Miracles, The Supremes, the Temptations and Martha Reeves and the Vandellas on the Motortown Revue
The single's B-side, "Time Changes Things" was written by two-thirds of the famous HDH songwriting team, Brian Holland and Lamont Dozier with Janie Bradford who was co-writer of "Money (That's What I Want)". "Time Changes Things" also showcases Diana Ross' voice singing lead. By now, Berry Gordy had to appease Mary Wilson, who had not had a turn at the mic and was feeling increasingly swept aside, by allowing her to sing lead live during the Motortown tour on some of the songs they'd released as well as giving her the opportunity to sing lead on some tracks for their upcoming debut album.
MEET THE SUPREMES – THE SUPREMES
By the end of 1962, the Supremes had amassed enough recordings to round them out with a few more songs and release their debut album. The album contained all eight songs that had been released in four singles between 1961 and 1962, plus the b-side from their debut single (curiously, their debut A-side single, "Tears Of Sorrow", wasn't included) along with two more tracks. Two of those two tracks, "Baby, Don't Go" and "The Tears", had Mary Wilson singing lead at long last, but the latter recording wasn't included in the final album. Although Barbara Martin's vocals are heard on the album, the cover showcased the group as a trio. The entire album was released in monaural sound in 1962. It wouldn't be remixed as stereo until 1965.
"Meet the Supremes" was released on December 9, 1962 and failed to chart in any of the US charts, although it did manage to climb up to Number 13 in the United Kingdom's album chart when it was re-released in 1964.
The "no-Hit Supremes" would still be another year away from a success that only few people on this Earth get to enjoy. In the meantime, they'd continue developing their sound. With the invaluable help of Gordy and the Motown family, the Supremes would go on to become the second-biggest selling pop act of the Sixties, next to only the Beatles.
THE MIRACLES

The Miracles; Claudette Robinson, Ronald White, Pete Moore, Smokey Robinson and Bobby Rogers
Besides the duties of Motown Vice-President, overseeing all the labels recording artists, Smokey Robinson also had to pay special attention to his own group, The Miracles. In 1962, the group scored two Top Forty hits, one that got lost in the mist of time and another that became a major rock 'n' roll classic.
The prior year had been rough for Smokey, having contracted the Asian flu and being bed ridden for an entire month. He went off to tour with the Miracles immediately after his recovery but without his wife Claudette, who was also a member of the group, because she was pregnant with their first child. Smokey lost one of the Miracles, Pete Moore to the Army draft during that time. Soon after, Smokey received the news that his wife Claudette was involved in a serious car accident, ultimately surviving the crash but losing the baby.
I'LL TRY SOMETHING NEW – THE MIRACLES
Smokey Robinson threw himself back into work in 1962. Besides writing for other artists, he saved what he considered his best for his own group. Released on April 9th, 1962 through Motown's subsidiary label, Tamla, "I'll Try Something New" was the group's first single of the year. It barely eked its way into the Pop Top Forty at Number 39 and just missed the R&B Top Ten, climbing only up to Number 11. The song had the benefit of Smokey's warm, smooth falsetto, and showcased strings encompassing a lush orchestration, unique for a pop hit of the time. It wasn't enough to take it to the top however, despite its lovely lyrics.
"I will build you a castle with a tower so high it reaches the Moon. I'll gather melodies from birdies that fly and compose you a tune. Give you lovin' warm as Mama's oven, and if that don't do, then I'll try something new." "I'll Try Something New" – The Miracles
Smokey's wife Claudette, having fully recuperated from her accident and miscarriage, sings background vocals in the song along with the remaining two Miracles. Berry Gordy produced the record for them.
"I'll Try Something New" was re-recorded in 1969 by the Supremes with the Temptations and it made it a bit higher than the original at Number 25 Pop and Number Eight R&B.
The record's initial success encouraged the Miracles, and although their next single would not necessarily chart as high as it should, it cemented Smokey's reputation as a stellar songwriter.
YOU'VE REALLY GOT A HOLD ON ME – THE MIRACLES
"You've Really Got A Hold On Me" was the Miracles' second Top Ten hit after "Shop Around", climbing to Number Eight Pop but hitting Number One in the R&B chart. The song grew in popularity with time, ultimately selling over a million records and becoming one of the most covered Miracles tunes of all time. In 1998, it received a Grammy Hall of Fame Award.
"I don't like you but I love you, seems like I'm always thinking of you. Oh, you treat me badly… I love you madly, You really got a hold on me." "You've Really Got A Hold On Me" – The Miracles
Influenced by Sam Cooke's "Bring It On Home To Me", Smokey wrote the song in a New York hotel room after listening to Cooke's song on the radio. Cooke's version also opens with a piano intro and has a similar structure to Smokey's classic, yet each of them stand alone as two classic R&B songs.
Besides the insanely catchy melody, the lyrics touch on the universal theme of loving someone who treats the singer with disdain, employing the "please/squeeze" rhyme that everyone remembers and usually always sings during the wrong part of the tune.
Ironically enough, Gordy and Robinson didn't think "You've Really Got A Hold On Me" would be a hit. Recorded on October 16, 1962, the single was released on November 9th as a B-side to a Miracles song called "Happy Landing", but radio DJs across the country flipped the record to play it instead of its so-so A-side.
Proving once again that R&B and Rock 'n' Roll are inextricably intertwined, the Beatles recorded the definitive version, both in performance and recording quality, in 1964 for their debut UK album "With the Beatles", replacing the piano intro with George Harrison's plucky guitar, but leaving the rest of the song's interpretation exactly as the Miracles originally sang it.
As the Sixties unfolded, Smokey Robinson wrote song after song for practically every Motown artist as well as his own Miracles, being the label's primary songwriter until Holland-Dozier-Holland eclipsed his position as Motown's biggest hitmaker. In the subsequent years, Smokey would go on to write and record Sixties standards with the Miracles such as "Mickey's Monkey", "The Tracks of My Tears", "Ooh Baby Baby", "Going to A Go-Go" and others that are considered timeless classics today. His responsibility as songwriter for other Motown artists became less necessary as the Sixties ended, as Motown artists such as Stevie Wonder and Marvin Gaye began to write their own material.
LITTLE STEVIE WONDER
Little Stevie Wonder, 1962
Stevland Hardaway Judkins was re-named Little Stevie Wonder in 1961 when the blind boy was just eleven years old. Ronnie White of the Miracles brought the youngster, who was friends with his nephews, to Motown, accompanied with his mother Lula, and had him audition for Berry Gordy and producer Clarence Paul. After Stevie sang them a self-penned composition called "Lonely Boy" and then proceeded to wail on and shred the harmonica, Clarence Paul declared, "That little Stevie is a wonder!"
Gordy soon signed him to a five-year contract, with royalties to be held in escrow until he was 21, and with a modest monthly stipend for both him and his mother Lula.
Stevie and Paul quickly went to work in the recording studio. Together, they produced two albums during the first half of 1962. The first one was a tribute to Ray Charles, essentially called "Tribute To Uncle Ray".
It was a cheap shot to associate these two, not because they were related (they're not), but because they're both blind and black. At the same time, two musical geniuses living at the same time who both suffered very similarly wasn't common. Ray Charles lost his sight slowly, due to glaucoma, until he was totally blind by the age of 7. Stevie, born six weeks premature, lost his eyesight in the incubator due to too much oxygen. Both were dirt poor. Both turned out to advance popular music during their respective times and both bestowed the world with timeless classics that we're all the better for.
TRIBUTE TO UNCLE RAY – LITTLE STEVIE WONDER
One thing you can say about this eleven-year-old wunderkind, this boy has an old soul. His vocal interpretations were as professional and un-childlike as anyone should expect from an adult pop singer, except that this dynamo was a child. Perhaps his blindness contributed to his genius, forcing his ear to be finely attuned to the music of his mind.
HALLELUJAH, I LOVE HER SO – LITTLE STEVIE WONDER
The album starts with the happy "Hallaleujah, I Love Her So". Stevie belts it out like Uncle Ray himself, except that his voice hadn't even cracked puberty yet. Other than that, it's a wailing recording with awesome stereo separation and a solid backing track of horns, with the Motown stable of musicians known as the Funk Brothers backing it all.
Stevie's performance is consistent throughout, even though some of the song selections are a bit underwhelming. Five of the ten tracks on the album had been composed by Ray Charles, and mostly not very memorable ones at that. Three songs had been performed by Charles at one point and the other two remaining tracks were written by Gordy, Paul and Stevie.
SUNSET – LITTLE STEVIE WONDER
You would never in a million years think that one of the composers of this song would become one of the biggest pop icons of the Twentieth Century. "Sunset" was co-written by Stevie and his producer Clarence Paul. Once again, the most impressive quality of this and every recording of Stevie's is his amazingly assured and mature vocal delivery, not to mention having a deeply melodic voice to boot. It was evident just by listening to him that this was an exceptionally talented young singer.
THE JAZZ SOUL OF LITTLE STEVIE WONDER
Berry Gordy held back on releasing little Stevie's first album because both he and Clarence wanted to capture more of the child's amazing talent on tape. This time, they wanted to focus on his enormous musical prowess, particularly his abilities on percussion, harmonica and keyboards. The result was called "The Jazz Soul of Little Stevie Wonder", an all-instrumental album showcasing Little Stevie Wonder's amazing musicianship. In it, Stevie would include "Fingertips", a song whose live version would become his first Number One hit in 1963.
FINGERTIPS (ORIGINAL STUDIO VERSION)
The album opens with the composition whose live recording gave Little Stevie Wonder worldwide fame. This studio version doesn't have the unbounded energy of the live single version, primarily because of the live audience and little Stevie's exhortations, but it stands alone as a good jam to open with. Notable to this version is that Marvin Gaye plays drums and Stevie accompanies him on bongos. It isn't clear who's playing flute, although Stevie takes over that duty with harmonica on the live version. The rest of the album follows suit, with jams that make you forget you're listening to a blind, 11-year-old child prodigy.
Two of the compositions in "The Jazz Soul of Little Stevie Wonder", titled "Wondering" with Little Stevie on keyboards, and "Session Number 112" with him on bongos and harmonica, were co-written by Wonder with Paul.
Having recorded two album's worth of material, Gordy and Paul were confident that Stevie was ready to record his first single. They recorded a song called "Mother Thank You", but at the last minute, Gordy pulled it. Instead, he wrote "I Call It Pretty Music, But the Old People Call It the Blues" and gave it to Stevie to record. It was released in the Summer of 1962 but did not enter any charts.
His second single, "Little Water Boy" featured Clarence Paul sharing lead vocals with Stevie. Similar to his debut single, it didn't crack the charts either, although despite the strange title, it was a catchy song.
Hiis third single released at the end of 1962 was "Contract On Love" and also didn't chart. The song was good however, and Gordy included it in Wonder's 1966 album, "Uptight".
Despite the disappointing public indifference in the young boy's single recordings, Berry Gordy still had two album's worth of recorded material, and decided to release the instrumental album "The Jazz Soul of Little Stevie Wonder" first in September of 1962, then followed it up with "A Tribute to Ray" the following month. Unfortunately, just like the singles, the albums did not make a dent in any of the charts.
Gordy's frustration was in the fact that it was difficult to convey the excitement Little Stevie Wonder exuded when watching him perform live. The sight of this diminutive handicapped child sing and play music like a veteran was one to behold, as the wild audience reaction attested.

Little Stevie Wonder performing on the Motortown Revue
Gordy sent Little Stevie Wonder on tour in his Motortown Revue in the Summer of 1962. His performance of "Fingertips" was recorded one June evening at the Regal Theater in Chicago. That recording captured the excitement that Stevie incited in every performance. Gordy released it in early 1963 and it shot to Number One Billboard Pop and R&B. The genius had been discovered.
***************
JOHN LEE HOOKER
One of the most influential blues musicians in the development of Sixties rock made his recording debut in 1949, six years before "Rock Around the Clock" became the first rock 'n' roll song to top the Pop chart. Since then, John Lee Hooker's music has been covered by the Yardbirds with Eric Clapton, the Animals, the Spencer Davis Group, James Thorogood, Canned Heat, the Allman Brothers, the Rolling Stones, Van Morrison, and many more pioneering rock musicians who cut their musical teeth on the blues. Hooker is a pioneer of the electric guitar, having contributed to the distinct sound of the electric rock guitar by using his instrument to express his unique sense of beat, and by providing a blueprint for a basic, simple rock rhythm that, as time progressed, was to launch a million songs.
A John Lee Hooker tune was rarely played with a standard beat. He had the tendency to fit his own unique beat to each song he played. For a musician, that required having a good ear, good enough to adjust to the nuances of each composition. British legends of today appreciated his work and attempted to replicate it many times over their careers.
BOOM BOOM – JOHN LEE HOOKER
John Lee Hooker is deserving of recognition thanks to just a handful of great recordings. His most well-known song, "Boom Boom" was released in May 1962 and is considered by many music critics to be one of the greatest pop songs of all time, despite the fact that it didn't chart particularly high when it was first released (Number 16 Billboard R&B and Number 60 Billboard Pop).
"Boom, boom, boom, boom, I'm gonna shoot you right down, right off your feet, take you home with me, put you in my house, boom, boom, boom, boom…" "Boom Boom" – John Lee Hooker
"I would never be on time [for the gig]; I always would be late comin' in. And she [the bartender Willa] kept saying, 'Boom boom – you late again'. Every night: 'Boom, boom – you late again'. I said 'Hmm, that's a song!' … I got it together, the lyrics, rehearsed it, and I played it at the place, and the people went wild" –John Lee Hooker
The song, thanks to its instantly catchy beat, is one of two John Lee Hooker compositions that have been added to the Rock & Roll Hall of Fame's list of the Songs That Shaped Rock and Roll. "Boom Boom" was also inducted into the Blues Foundation Hall of Fame.
The introduction of Hooker's music to rock 'n' roll legend is thanks primarily to the British groups that arrived in the US after the Beatles broke through in 1964. An American blues boom had occurred in Britain a few years earlier and many young up-and-coming artists from Clapton and Jeff Beck to Jimmy Page and Robert Plant, Mick Jagger and Keith Richards all emulated the music of these blues greats that America had not yet discovered: Howlin' Wolf, Sonny Boy Williamson, Muddy Waters, Willie Dixon, Robert Johnson and John Lee Hooker.
The first recording of a John Lee Hooker song by one of these British greats occurred in 1963 when the Yardbirds with Eric Clapton recorded a faithfully recreated version of "Boom Boom".
The Animals, a British group led by blues singer Eric Burdon and featuring keyboardist Allan Price and bassist "Chas" Chandler, who later discovered Jimi Hendrix, had chart success with "Boom Boom" two years after it was first released by Hooker. Played a little faster, Burdon added "shake it, baby" to the lyrics to play homage to another Hooker song of the same name, instead of allowing a guitar or harmonica solo such as the one showcased in the Yardbirds' version, probably the only version to top the original.
"Boom Boom" by the Animals climbed to Number 43 on Billboard's Pop chart in December of 1964.
JOHN LEE HOOKER AND ZZ TOP
Many rock groups have utilized that Hooker guitar riff to lay down as a basic rhythm under countless songs, but one Seventies Southern rock group made it a little too apparent and got sued for it. ZZ Top were ardent fans of John Lee Hooker and paid tribute to him by taking the signature guitar riff off Hooker's "Boogie Chillen" for their own 1973 hit "La Grange" and adding "Boom Boom's" "hau, hau, hau hau" to the lyrics.
The 1991 lawsuit between Hooker's song publisher Bernie Besman, and ZZ Top lasted years amid appeals that ultimately found its way up to the US Supreme Court. Although the Court ruled against Besman in the end, citing public domain, the US Congress amended the 1976 US Copyright Act with the Copyright Term Extension Act in 1998 because of it. The Act, championed by California House of Representatives member and former pop star Sonny Bono of Sonny & Cher fame, protects songs written before 1978 from entering public domain. ZZ Top ultimately settled out of court with Besman, but Hooker never saw a dime.
THE LEGACY OF JOHN LEE HOOKER

John Lee Hooker enjoyed other well deserved recognition through the late Sixties and early Seventies, recording with contemporary rock acts, notably on "Hooker 'n' Heat", a double album with a popular blues-rock group of the time called Canned Heat and released in 1971. That was the first album featuring Hooker to enter the album charts, climbing to Number 78 that year. By then, his career had already been long and his rise had been slow but steady, and his contribution to rock 'n' roll music was beginning to cast a long shadow.
Hooker himself made an appearance playing "Boom Boom" in "The Blues Brothers" film in 1980.
******************
John Lee Hooker was one of 11 children, born in 1912 to a sharecropper in Mississippi. He grew up dirt poor and illiterate, but when it came to writing lyrics for his music he became quite prolific. After his parents divorced, his mother married a musician who gave little John an acoustic guitar and taught him how to play the blues.
Hooker ran away from home at age 14 and lived for years as a homeless guitarist wandering throughout the country. By the 1930s, he ended up in Detroit working for the Ford Motor Company and playing blues on the side. His popularity as a blues musician began to grow there, and soon he exchanged his acoustic for an electric guitar in order to play louder. His break came when a Detroit record shop owner by the name of Elmer Barbee recorded Hooker. The demo wound up in the offices of Modern Records in L.A. after Barbee gave the demos to Bernie Besman, at the time the only record company owner in Detroit. Modern released it and the song "Boogie Chillen" became the biggest selling "race" record of 1949.
"I wrote that song in Detroit when I was sittin' around strummin' my guitar. The thing come into me, you know? I heard [my stepfather] Will Moore done it years and years before. I was a little kid from down South, and I heard him do a song like that, but he didn't call it 'Boogie Chillen.' But it had that beat, and I just kept that beat up and I called it 'Boogie Chillen.'" – John Lee Hooker
BOOGIE CHILLEN' – JOHN LEE HOOKER
Comprised of only his vocal, his electric guitar and his foot stomping to the rhythm, "Boogie Chillen" kicked off the Delta blues fad of the late 1940s. The song is considered by many to be a precursor to rock 'n' roll music with "a riff that launched a million songs" according to music critic Cub Koda. Rock songs that have taken this riff include "Canned Heat's "On the Road Again", "Spirit In the Sky" by Norman Greenbaum and, as mentioned earlier, ZZ Top's "La Grange".
"The song has almost no melody. Even less harmony. In fact, it is hard to call it a song. It's more like a bit of jive steam of consciousness in 4/4 time." –Music historian Ted Gioia
"Boogie Chillen" sold over a million copies, was inducted into the Blues Foundation Hall of Fame, received a Grammy Hall of Fame award in 1999, is listed in the Rock and Roll Hall of Fame as one of the "500 Songs That Shaped Rock and Roll" and was added to the US National Recording Registry in 2008. Hooker has played and recorded the song many times, most notably with the Rolling Stones and Eric Clapton.

CRAWLIN' KING SNAKE – JOHN LEE HOOKER
Later in 1949, the same year he had released his debut single "Boogie Chillen'", Hooker again reached Billboard's R&B Top Ten at Number Six with "Crawlin' King Snake", a recording that today is a classic blues standard.
Hooker adapted his composition from a sampling of Delta blues tunes of the 1920s. The song is reminiscent of Victoria Spivey's "Black Snake Blues" and Blind Lemon Jefferson's "Black Snake Moan"; although he admits to be most influenced from Tony Hollins' song of the same name.
DIMPLES – JOHN LEE HOOKER
The opening guitar riff for "Dimples" is instantly recognizable, but not for this particular composition. Similar to "Boom Boom", it's a lick that's opened and carried many rock 'n' roll songs. It's his second most influential track after "Boom Boom" and was his first single released in the UK, kicking off a blues trend there that year that carried well into the Sixties.
Hooker was signed with Vee Jay Records when he recorded "Dimples" and was accompanied by the back-up band of another legendary musician of the day named Jimmy Reed. Reed's band, made up of blues guitarist Eddie Taylor, bassist George Washington and drummer Tom Whitehead, had struggled at first to keep up with Hooker's variety of tempos from song to song, but soon, they developed a keen ear and appreciation for the man's genius.
ONE BOURBON, ONE SCOTCH, ONE BEER – JOHN LEE HOOKER
Hooker covered other classic blues songs made famous by Sonny Boy Williamson and Howlin' Wolf like "Good Mornin' Little Schoolgirl" and "Smokestack Lightning" respectively, along with many, many more. Dipping into his work and arbitrarily choosing a song will usually deliver another gem you never heard yet sounds very familiar.
One of his biggest Sixties covers was a song written and performed in 1953 by two artists now banished to the dustbin of fame, Rudy Toombs and Amos Milburn. Back then however, Milburn was known for Top Ten R&B drinking songs, his most popular being "One Bourbon, One Scotch, One Beer" reaching Number Two that year. Milburn's version was cool, smooth and classy, accentuating the subtle humor of the song to a laid back jazz groove.
"I don't want soda nor bubble gum, you got what I want, just serve me some, since my baby's been gone, everything is lost, I'm on this kick and I can't get off… One scotch, one bourbon, one beer..""One Scotch, One Bourbon, One Beer" – Amos Milburn
In 1966, John Lee Hooker recorded "OBOSOB" and changed it enough to make it his own. Hooker altered it and set the whole song to a rock 'n' roll boogie shuffle and by that effort, turned it into a rock 'n' roll standard.
"And then I sit there, drinkin', gettin' high, mellow, knocked out, feelin' good… About that time I looked on the wall, at the old clock on the wall. About that time it was ten-thirty then, I looked down the bar at the bartender, he said 'What do you want, Johnny?'… one bourbon, one scotch, and one beer…" "One Bourbon, One Scotch, One Beer" – John Lee Hooker
Eleven years later in 1977, George Thorogood took the song and turned up the amp, recording a muscled-up version that remains today a classic rock standout that propels the tune in the direction Hooker meant to send it.
A journey through John Lee Hooker's work will garner many more gems than the most famous ones highlighted here. Hooker continued to record and perform throughout the rest of his life, playing with rock greats from the aforementioned legends to Carlos Santana and Bonnie Raitt in his 1989 album "The Healer" and many more.
He performed until the end of his life, dying in his sleep on June 21, 2001 after falling ill a few days before going to tour Europe. He was 88 years old. The musical legacy he left to us is one of the most valuable collections of rock 'n' roll music available today.