THE SHIRELLES – CAROLE KING – DEL SHANNON – THE MARCELS – ERNIE K. DOE – BOBBY LEWIS – THE REGENTS – BEN E. KING – GARY US BONDS – ETTA JAMES
by Robert Seoane
"Let the word go forth from this time and place, to friend and foe alike, that the torch has been passed to a new generation of Americans—born in this century, tempered by war, disciplined by a hard and bitter peace, proud of our ancient heritage—and unwilling to witness or permit the slow undoing of those human rights to which this Nation has always been committed."
–John F. Kennedy Inaugural Address, January 20, 1961.
The first year of the decade began with a promise from a young President. His message was universal and timeless, despite the fact that his own time left on earth was close to ending. In his Inaugural Address lives too, the spirit of rock 'n' roll; a style of music invented by this new generation of Americans born in this century that Kennedy spoke about.
Rock 'n' roll at the dawn of 1961 was a watered down beat, still years away from a recharge that by now it so desperately needed. In 1961, this excitement for the future was embodied in the country's young President and rock 'n' roll was just the soundtrack heard on everyone's portable transistor or car AM radio, and in glorious monophonic sound no less. The music was becoming the foundation for a revolutionary youth movement, developing looser styles and delivering them to the older generation, ultimately to worldwide acceptance.
New dance crazes popped up soon after the Twist exploded into global consciousness just the year before. In 1961, an R&B group called the Vibrations recorded the first in a string of songs about the next dance craze, "The Watusi".
Soon, rock 'n' roll artists of the day like Chubby Checker, Smokey Robinson & the Miracles and the Isley Brothers recorded their own versions of "The Wah-Watusi".
In 1961, rock 'n' roll was still establishing its sound, developing their groups and staking out new musical genres, still testing the shaky ground that would outrageously blossom in the years to come once the British Musical Invasion exploded in 1964. By '66, conventional wisdom dropped the "roll" and just called it rock. Rock music then continued to branch out further, into different sub-genres, led and demonstrated by the musical experimentation of the Beatles, the poetry of Bob Dylan and the uncensored funk of James Brown. The trunk and branches of the tree had grown strong. By 1970, the leaves would begin to sprout.
But I get ahead of myself.
THE SHIRELLES
"The Shirelles had a 'sound', a word that people from the Sixties vocal-group era use with a lot of reverence. Shirley Alston Reeves, who did most of the group's lead vocals, wasn't a gospel shouter like Arlene Smith of the Chantels. Shirley was more sentimental and street. When she said, 'Baby, it's you,' you thought, 'Baby, it is me.'" -Paul Schaffer; Rolling Stone's 100 Greatest Artists of All Time
Since 1955, the year when rock 'n' roll burst into the world scene, the new musical genre had been the realm of men only. That ended in 1961 when three young high school girls got together to form the basis for scores of girl groups to come.
The Shirelles hold the distinction of being the first successful all-girl group in rock 'n' roll history. There had been a handful of other lesser known variations before, but the Shirelles cemented their reputation in 1961 when their single "Will You Love Me Tomorrow" made it to Number One in Billboard's Pop chart, the first rock ''n roll girl group to do so.
Shirley Owens, Doris Coley, Addie Harris and Beverly Lee were high school friends at Passaic High in New Jersey when they won a talent show in 1957, calling themselves the Poquellos. Still minors, they were at first reluctant to sign on to any record label that would want them for an act, but by the following year, they relented. Their fellow classmate, Mary Jane Greenberg, who heard them at the talent show, was responsible for the launch of their career. Mary Jane's mother Florence happened to own a record label named Tiara, and Mary Jane insisted that her mother listen to her three high school friends. She did, and immediately recognized their talent for blending their voices together and their penchant for doo-wop and pop.
Florence Greenberg believed in the quartet and became their manager for the long haul. Once under contract with Greenberg and touring on a regular basis, they changed their name to the Shirelles, coming up with it by taking the lead vocalist's first name, Shirley, and adding an "elle" suffix, much like a lot of other popular groups at the time, such as the Chantels.

I MET HIM ON A SUNDAY – THE SHIRELLES
"They wrote their very first hit, 'I Met Him on a Sunday,' themselves, when they were still high school students in New Jersey. It was on this song that the group combined doo-wop with very accessible pop melodies." -Paul Schaffer; Rolling Stone's 100 Greatest Artists of All Time
Their first single did well enough in the local area where the record was distributed in, so Tiara licensed it to Decca for national release. It made it up to Number 49 in Billboard's Pop chart.
The Shirelles' doo-wop sing-a-long in this tune, "Doo ronday ronday ronday papa doo…", established their distinctive sound; a strong female lead vocal backed by three background vocals that harmonize the doo-wop hook. That formula soon became a blueprint for Sixties girl groups to come, such as the Chiffons, the Crystals, Martha Reeves and the Vandellas, the Marvelletes, the Shangri-Las, the Ronettes, the Supremes, right on down the alphabet to the Velvelettes.
"I Met Him On A Sunday" was written by all four Shirelles for the talent show at their high school in Passaic, New Jersey that got them a record contract. It's ultimately just a simple, repetitive melody, similar to something children would sing while playing patty cake. Still, once they were signed to Greenberg, it was the first song they committed to vinyl and ultimately, it gave the Shirelles national footing by 1958, however small.
Tiara Records was sold to Decca that same year along with the Shirelles' contract for $4,000 (approximately $32,500 in 2015 dollars) and Greenberg stayed on as their manager, consistently booking them to establish their name as they struggled for recognition. The meager success of their first single was helpful in getting them booked to bigger venues.
DEDICATED TO THE ONE I LOVE – THE SHIRELLES
Their second single was a remake of a song recorded in 1957 by the 5 Royales. The Shirelles' version didn't do much better on the charts than the original upon its first release, not climbing any higher than Number 83 in Billboard's Pop chart. Decca quickly gave up on them, labeled them a one-hit act, and returned their contract back to Greenberg. Certain that it was a hit, Greenberg re-released the song that same year through her new label, Scepter Records, but it again stalled, this time at Number 89. It would be another two years before it would be released again to make a serious dent in the charts.
TONIGHT'S THE NIGHT – THE SHIRELLES
Their third single did much better than the first two. Produced by "16 Candles" songwriter, Luther Dixon and co-written by him and Shirley Owens, "Tonight's the Night" climbed to Number 39 in the Billboard Pop chart and Number 14 R&B. The song's success, having cracked the coveted Pop Top Forty in late 1960, gave the Shirelles a bigger boost in their ability to draw a crowd, and Greenberg found she could start booking them as supporting acts for bigger names such as Little Richard and Etta James. Still barely out of their teens, the Shirelles' parents consented to touring only if a designated person would oversee them. Both Etta James and Ruth Brown, legendary singers and older peers to the young quartet, saw to it that the young girls were chaperoned regularly while they were all on tour.
Like "I Met Him On A Sunday", "Tonight's the Night" holds the distinction of having been co-written by Shirley Owens, the lead performer of the group, something pretty much unheard of in the dawn of the Sixties by anyone, let alone a member of an all girl group.
The song's lyrical content was controversial in that it spoke of a young's woman's excited expectancy of losing her virginity. Some radio stations went as far as to ban the playing of the record outright because of such a scandalous topic for 1961.
"You said you're gonna make me feel all aglow, well I don't know, well I don't know right now, I might love you so, I might love you so much you may break my heart, I may want you so much and all my dream been torn apart." Tonight's the Night – The Shirelles
Laced with the Shirelles' unmistakable doo-wop style, "Tonight's the Night" got them that much closer to national recognition, but it would be the following single that not only would shoot them into stardom but also cement their position in rock 'n' roll history.
WILL YOU LOVE ME TOMORROW/BOYS – THE SHIRELLES
After Buddy Holly's untimely and tragic demise, rock 'n' roll and doo-wop acts were mostly made up of artists who needed songs written for them by professional songwriters. As a result, these songwriters churned song after song out daily, like link sausages to an ocean of acts thirsting for material. The Shirelles would have their first Number One hit thanks to one of these songwriters.
Determined to make the act a success, Florence Greenberg contacted record producer Don Kirshner for assistance in selecting the next single for the Shirelles. Don Kirshner's legacy for forming the sound of early Sixties rock 'n' roll looms large. Based in New York's famed Brill Building, Kirshner ran a hit factory that included legendary songwriters who were just at the start of their brilliant musical careers. Neil Sedaka, Carole King, Gerry Goffin, Cynthia Weill, Barry Mann, Burt Bacharach and Hal David all passed through the Brill Building in New York City, still standing on 49th Street and Broadway. Each of these future legendary composers was paired up in a room with a piano, churning out song after song to compete with the other composers in the adjacent rooms. At the end of the day, they would perform their compositions to Kirshner and he would select the one he liked best to present to a current recording artist in need of material.
Goffin and King, as well as Weill and Mann, were two teams who wrote together and eventually married; both couples becoming close friends at the same time that they were competitive rivals. When Kirshner approached them both to write a song for the Shirelles, King and Goffin's "Tomorrow" was chosen to present to the group.
King auditioned the song for the Shirelles. The original version was slower than the final Shirelles recording, and she played it for them on piano, much like the version in Carole King's landmark album "Tapestry" (1971). Upon first listen, Shirley Owens didn't like it, saying it sounded too country to fit the Shirelles' sound, so King and Goffin added a string arrangement to the melody and sped up the tempo. Owens gave it another listen and changed her mind. Lengthening the title to "Will You Love Me Tomorrow", then later to "Will You Still Love Me Tomorrow", the Shirelles finally had the first career hit they had coveted all these years. Ironically, the song's lyrics also dealt with the subject of having sex, much like their previous single, "Tonight's the Night", and as a result also got banned from airplay at some radio stations, but it wouldn't be enough to tamp down the song's staying power, simply due to the sheer loveliness of the tune and sweetness of the words.
"Is this a lasting treasure or just a moment's pleasure? Can I believe the magic of your sighs? Will you still love me tomorrow?" Will You Love Me Tomorrow – The Shirelles
"Will You Still Love Me Tomorrow" has a special place in rock 'n' roll history, especially after Carole King included it in "Tapestry" and returning it to its melancholy roots.
BOYS – THE SHIRELLES
"Ringo always used to do a song in the show. Back then he had 'Boys'. It was a little embarrassing because it went, 'I'm talking about boys – yeah, yeah – boys'. It was a Shirelles hit and they were girls singing it, but we never thought we should call it Girls, just because Ringo was a boy. We just sang it the way they'd sung it and never considered any implications." –Paul McCartney; Beatles Anthology
"Will You Still Love Me Tomorrow's" B-side, "Boys", also holds a special distinction. It was given the seal of Rock Royalty approval when the Beatles selected it for their debut album "Please Please Me" in 1963. It was the first song by the group to showcase drummer Ringo Starr as lead vocalist, a chore Ringo was usually given once per album. "Boys" was selected for Ringo's lead vocal debut primarily because ex-Beatle drummer Pete Best also used to sing it during their live performances.
"Any one of us could hold the audience. Ringo would do 'Boys', which was a fan favourite with the crowd. And it was great — though if you think about it, here's us doing a song and it was really a girls' song. 'I talk about boys now!' Or it was a gay song. But we never even listened. It's just a great song. I think that's one of the things about youth — you just don't give a shit. I love the innocence of those days." –Paul McCartney; Rolling Stone
The Beatles' version of the song replaces the Shirelles' sax solo with George Harrison's plucky guitar, introduced by a hearty "Alright, George" from Ringo. The song has much more urgency than the Shirelles' version, with the British group turning a mid-tempo classic into a raucous rocker.
After the sudden success of their last single, Greenberg released "Dedicated To The One I Love" a third time and her long-time hunch was proven right. The song was a hit, climbing to Billboard's Number Three Pop and Number Two R&B. The song was remade in 1967 by the Mamas and the Papas with Michelle Phillips singing lead vocal. It made it up to Billboard's Number Two Pop, thanks to the group's arrangement of the song, showcasing their harmonies and asserting the song's reputation as a rock 'n' roll classic.
MAMA SAID – THE SHIRELLES
The Shirelles were at the height of their success when their next Top Ten single, "Mama Said", was released. It's a fun, catchy song with lyrics that became a colloquialism not long after the record's release.
"And then she said someone will look at me like I'm looking at you one day, then I might find I don't want it any old way, so I don't worry 'cause…
…Mama said there'll be days like this, there'll be days like this, my mama said."
Mama Said – The Shirelles
Written by Luther Dixon and Willie Denson, "Mama Said" reached Number Four Billboard Pop in the Spring of 1962. Even today, you'll hear it occasionally played on films, commercials and TV series, and not necessarily reminiscent of its time, but as a still potent commentary on life.

BABY IT'S YOU – THE SHIRELLES
The Shirelles' next Top Ten single was written by future MOR Sixties composer, Burt Bacharach. It seems that Shirelles' manager Florence Greenberg went back to the music factory that gave the group their first hit and asked Don "The Man With the Golden Ear" Kirschner for another nugget.
In 1957,Kirshner introduced composer Bacharach to Hal David, the young lyricist who would join Bacharach as songwriting partner for the rest of their mutual careers. Together, the duo went on to collect six Grammys. Bacharach also won an additional three Academy Awards, two of them for best score and best song from "Butch Cassidy and the Sundance Kid" (1969) with Paul Newman and Robert Redford.
Ironically enough, the lyrics of "Baby, It's You" weren't written by Hal David but by his brother Mack. It was one of the first compositions by Bacharach and a complete departure from the music he would later write. This was a torchy rock 'n roll ballad.
"Many, many, many nights roll by. I sit alone at home and cry over you. What can I do? I can't help myself. 'Cause baby it's you (sha-la-la-la la-ah). Baby it's you…"
Baby, It's You – The Shirelles
Luther Dixon produced the composition for the Shirelles and credited himself on the song as well, calling himself Barney Williams on the label along with Bacharach and David. It made Billboard Pop at Number Eight and got to Number Three in Billboard's R&B chart in late 1961. The song was tailor-made for the Shirelles, particularly because of the doo-wop background vocals.
In early 1962, the Shirelles released their fourth album and called it "Baby, It's You" to capitalize on the song's popularity. The album did fairly well, rising only up to Number 59 in Billboard's Album chart. It was the first of only two of their albums to even make a mark on the chart. A collection of songs that were mostly forgettable, it did contain two other songs that made the charts, "Big John (Ain't You Gonna Marry Me)" and "Soldier Boy".
In 1963, the Beatles recorded their debut album Please Please Me and chose "Baby, it's You" to be one of the tracks. As they did with all the other songs the Beatles ever covered, they would either match it in quality or surpass it. In this case, the Beatles recorded the definitive version of the song, with John Lennon's earnest vocals delivering the lyrics from the heart and Paul and George accompanying him in a very tongue-in-cheek manner with the 'sha-la-las'.
SOLDIER BOY – THE SHIRELLES
Co-written by their favorite songwriter Luther Dixon and manager Florence Greenberg, "Soldier Boy" was the Shirelles' second and final Number One hit, released in 1962.
By '62, The United States had not seen armed conflict since the Korean War that ended nine years earlier. We weren't at war with anyone, but there was beginning to be an involvement in Vietnam. Despite this lack of warfare, "Soldier Boy" still managed to become a hit. As a melody, the song is pleasant enough, although more evocative of an era than a stand-alone recording. The lyrics are exceedingly devotional, with an elementary corniness to it, and the organ playing in the background during the unimaginative guitar solo betrays its age. Yet it does have the quality of longing inherent in the recording that's undeniable, not to mention the fact that there will always be someone who has lost a soldier boy and this song may provide some, if little, solace. For those two reasons, "Soldier Boy" is deserving of a niche in the history of rock 'n' roll.
"Soldier boy, oh, my little soldier boy, I'll be true to you. You were my first love and you'll be my last love. I will never make you blue, I'll be true to you…" Soldier Boy – The Shirelles
By 1962, the Shirelles were riding high on their success, appearing often as guests of famed DJ Murray the K on his "All Star Rock Shows" radio broadcast from WINS in New York City. In 1963, lead singer Shirley Owens and Doris Coley temporarily left the band due to a sudden epidemic of marriage. Then unknown singer, Dionne Warwick subbed for them during that time. Later that year, the original Shirelles sang in a hit comedy film of the era called "It's a Mad, Mad, Mad, Mad World".
In early 1963 they released the song that would prove to be their last Top Ten Single.
FOOLISH LITTLE GIRL – THE SHIRELLES
"Foolish Little Girl" miraculously made it to Number 4 Pop and Number Nine R&B. The song is mediocre at best, and sounded the death knell for the group's life on the national music charts.
By 1961, most of the black artists that were considered dangerous by White Establishment were gone from the airwaves. Little Richard had given up the "devil rock 'n' roll" to become a preacher. Chuck Berry was in jail for three years, guilty of transporting an underage female across state lines, a violation of the Mann Act. Even white rock 'n' roll acts with black influence had been either eliminated or watered down considerably. Jerry Lee Lewis' career went south fast when it was revealed that he was married to his thirteen-year-old cousin. Even Elvis had returned from the Army with a totally revamped, cleaned up image, and over a dozen sound-alikes and lookalikes had sprung up during his stay in the Army. The following handful of singles by artists who had a brief fling with the spotlight were some of the musical highlights of 1961.
DEL SHANNON
Charles Weedon Westover took his stage name, Del Shannon, from both a local wrestler and a shortened version of his favorite car, the Cadillac Coupe DeVille. He and keyboardist Max Crook, who had developed a precursor to the synthesizer that Crook called a Musitron, wrote a handful of songs together and recorded a demo that Crook played for Harry Balk and Irving Micahnik of Talent Records in Detroit, Michigan. One of those songs recorded that put Crook's Musitron to good use, was a tune called "Little Runaway".
Westover and Crook were signed to become recording artists and composer to the Bigtop record label in 1960. It was Balk who suggested changing Westover's name to Del Shannon. On January 21, 1961, the day after President Kennedy was inaugurated, Shannon and Crook re-recorded "Runaway" using the Musitron as the lead instrument. It was released the following month. By April, it reached Number One in Billboard's Pop chart.
Showcased in the film "American Grafitti", "Runaway" has a more Fifties feel to it, despite having been recorded and released in 1961.
Del Shannon never duplicated that early success again in his career. In the Seventies, like many musicians, he battled alcoholism as his star faded. Suffering from depression, Shannon committed suicide on February 8, 1990, killing himself with a .22 caliber rifle in his home. He was 55 years old.
BLUE MOON – RICHARD RODGERS AND LORENZ HART
The song "Blue Moon" has a long and varied trajectory that began when it was first written in the 1930s and reached its peak three decades later when rock 'n' roll dug its claws into it and made it into one of its own.
Despite doo-wop's inevitable decline after a very popular ride hitching onto the rock 'n' roll beat since its inception in 1955, it left not with a whimper but with a bang with a few choice tunes, such as the aforementioned "Runaway" by Del Shannon. The other shot across the bow of rock 'n' roll history however, was the Marcels' "Blue Moon".
The music for "Blue Moon" was originally written in 1934 by famed film and theater composers Richard Rodgers and Lorenz Hart. It premiered in the movie "Manhattan Melodrama" that same year as the title song, with stars of the day William Powell and Myrna Loy. Although the melody was the same, the lyrics were totally different.
After the film's release, Jack Robbins, head of MGM Studios' publishing company, heard the commercial potential of the theme music of the movie, but he felt it needed a new title and more romantic lyrics. Hart had already changed the lyrics to that song more than once before and was reluctant to tackle it again, but ultimately he did.
"Blue moon/you saw me standing alone/without a dream in my heart/without a love of my own". –Lorenz Hart
Hart chose the title "Blue Moon" because of the American term once in a blue moon, implying that the love he was singing about was a rare thing. In 1935, female singer Connie Boswell was the first to popularize it as a commercial record.
"Blue Moon" continued its journey through the American psyche when Billy Eckstine recorded it in 1949, peaking at Number 21 in March of that year.
It was Elvis Presley who pulled it into the rock 'n' roll genre when he recorded it for his debut album in 1956. His version was soft and spare, showcasing mainly Elvis' vocal.
The Marcels' took the famous doo-wop open of their version of "Blue Moon" from another song they performed in their act and sped it up, modernizing the tune for its day and making the composition their own with their thoroughly original take on it. Today, it's another one of those tunes considered to be a typical Fifties song, even though it was recorded and released in 1961, proving that the pop music at that time hadn't progressed much since the death of Buddy Holly two years earlier.
The Marcels' "Blue Moon" made it to Number One for three weeks in the Billboard Pop chart and Number one R&B as well, sold over a million copies and was awarded a gold disc. It's featured in the Rock & Roll Hall of Fame's "500 Songs that Shaped Rock & Roll".
A version similar to the Marcels, but looser and sloppier sounding, was also released by a group called the Classics at around the same time, but that version stalled at Number 50 on the Billboard Pop chart.
Since its conception, "Blue Moon" has been performed and recorded by the likes of Benny Goodman, Julie London, Jo Stafford, Frank Sinatra, Ella Fitzgerald, The Mavericks, Cowboy Junkies and many more. It's been showcased in television and in films like Grease (1978) and Jim Jarmusch's "Mystery Train" (1989).
The song has held its own in the 21st century as well. A rap version of "Blue Moon" plays during the opening credits of the abysmal film "The Adventures of Pluto Nash" (2002) with Eddie Murphy. Although this version copies The Marcels', there's a rap in the middle of the tune performed by Art Hodge and 40 Watt Hype, a one hit wonder whose career wasn't helped much performing this song in a film considered to be one of the worst ever made.
The latest popular recording of "Blue Moon" occurred in 2011 when lead guitarist Noel Gallagher quit the group Oasis two years earlier, leaving the rest of the group, including his brother Liam, to continue the band without him. They renamed themselves Beady Eye and recorded "Blue Moon" as one of the tracks from their debut album. Their recording of the tune was meant as a tribute to Manchester City Football Club's new 2011/2012 kit in England. It seems that Manchester City fans had been singing "Blue Moon" at matches for years during games, belting it out with gusto as if it were a heroic anthem. Gallagher sings it more like the Elvis recording.
"'Blue Moon' is a top tune and has been City's song for as long as I can remember. It's been covered by loads of people but the only good one until now was the one Elvis did. I hope the fans buzz off our version and sing along to it at the stadium." –Liam Gallagher
"Blue Moon" is one of those songs that will probably continue to be played, sung and remembered around the world for generations to come, largely because it has already been permanently woven into the pop culture fabric, with a helpful boost from Rock 'n' Roll.

MOTHER-IN-LAW – ERNIE K. DOE
Ernest Kador Jr.'s claim to rock 'n' roll history was this song, that made it to Number One for one week in the Billboard Pop on May 22, 1961. It's a humorous look at the bane of every husband's existence, the mother-in-law.

"Satan should be her name, to me they're 'bout the same. Every time I open my mouth, she steps in, tries to put me out, how could she stoop so low… mother in law…" Mother-in-Law –Ernie K. Doe
The comical demonization of the mother-in-law goes back to film and particularly television, when Fifties sitcoms like I Love Lucy and The Honeymooners used the idea of a visit from the mother-in-law as a fountain of comedic annoyance.
"Mother-In-Law" was written by Alan Toussaint, a legendary "behind the scenes" songwriter and record producer that wrote many hits in the Sixties and Seventies, including "I Like It Like That", by the Beatles' first copycat band the Dave Clark Five in 1965, "Working In The Coal Mine" (1966) recorded by Lee Dorsey and "Southern Nights" made popular by Glen Campbell in 1975. As producer, he worked with Dr. John on "Right Place, Wrong Time" (1973) and Patti Labelle on "Lady Marmalade" (1975). He played guitar in Paul McCartney's "Venus & Mars" album that same year when the ex-Beatle produced his album in New Orleans, Toussaint's hometown.
Toussaint was still touring at age 77 and was scheduled to play alongside old friend Paul Simon on December 8, 2015 at a benefit concert in New Orleans when he died of a heart attack in Madrid, Spain less than a month earlier, on November 10, following a performance that evening.
Like Toussaint, Kador was also born in New Orleans. In 1954, he changed his last name to the sound-alike moniker with an imaginary middle name "K.Doe" and became a member of the group the Blue Diamonds. A year later, he began to record solo albums, but it wouldn't be until six years later that "Mother In Law" would become his one and only Number One Song.
It almost didn't get recorded either. After take after unsuccessful take, writer Toussaint crumpled up the music and stormed out, giving up on the tune Doe was attempting to record. Fortunately, back-up singer Willie Hopper persuaded Doe to stay and try again, ultimately convincing him that it was a good song. Apparently, he was right.
TOSSIN' & TURNIN' – BOBBY LEWIS
"Tossin' & Turnin" is one of those classic rock 'n' roll songs that define the genre. It can be found in probably every oldies compilation of that era, as it was also one of the biggest hits of all time in rock 'n' roll history. When it came out on April 24 1961, it climbed steadily but slowly for twelve weeks until it hit Number One in the Billboard chart on the Fourth of July. There it spent another seven weeks, one of only six songs released during the Sixties that stayed in that position for that length of time or longer. It was the soundtrack for the Spring and Summer of '61. Billboard also named it the Number One song of that year, as well as the 27th biggest song of all time that charted on the Billboard Hot 100, having sold in excess of three million copies.
"Jumped outta bed, turned on the light, I pulled down the shade, went to the kitchen for a bite. Rolled up the shade, turned out the light, I jumped back into bed, it was the middle of the night." Tossin' & Turnin' – Bobby Lewis
The artist who recorded the song, came upon it by happenstance. Bobby Lewis' childhood was anything but normal. He was brought up in an orphanage in Indianapolis. By age six he was playing the piano. He moved to Detroit, Michigan and into a foster home at age 12, only to run away and back to Indianapolis two years later. There, he started working at carnivals. Soon, he took a gig singing with the Leo Hines Orchestra.
He went out on his own throughout the Fifties and did a lot of touring. He managed to cut a record called "Mumble Blues" and tour with big stars of the time like Jackie Wilson, making a name for himself at the same time. His career peak occurred in 1960 when he played at the Apollo in New York City. On the bill with him was a singer-songwriter named Ritchie Adams. Ritchie had written "Tossin' & Turnin'" with another struggling singer/songwriter named Malou Rene. Adams was associated with a small, independent record label named Beltone. When Lewis went to visit the Beltone offices in Manhattan, they urged Lewis to record the song. Adams played guitar on the record.
Beltone put a Bobby Lewis album together quickly to ride on the coattails of "T&T's" success. Lewis had one more Top Ten hit after that, also in 1961 and from that album, called "One Track Mind", an unmemorable tune that climbed to Number Nine. After that, Bobby Lewis fell into obscurity. As of the writing of this in 2015, he is still alive and is 82 years old.
BARBARA ANN – THE REGENTS
The Regents were one of a shrinking handful of doo-wop groups touring in the late Fifties and early Sixties. One of its members, Fred Fassert, wrote "Barbara Ann" for his sister, Barbara Anne Fassert. They recorded it in 1958, but it wasn't released for three years, until 1961, where it climbed to Number 13 on the Billboard Pop chart.
Its doo-wop style is more closely associated to the Fifties, so it remains a Fifties classic despite its 1961 release. What took it over the top however, was the Beach Boys' remake of it. The Beach Boys recorded it four years later on September 23, 1965 for their "Beach Boys Party" album, where it was released as the lead single. The Beach Boys' version made it to Number Two Billboard Pop.
Dean Torrance, half of the Beach Boys' copycat band Jan & Dean, sang lead vocal along with Brian Wilson on this recording. They recorded it very loosely, and added party songs in the background to give it an overall "party animal" feel. The result is a great rock 'n' roll song.
BEN E. KING
"King is one of the greatest singers in the history of rock and roll and rhythm and blues." – Ahmet Ertegun
Benjamin Earl Nelson was enjoying a successful run with his group, the Five Crowns, when George Treadwell, owner of the Drifters name and manager of the group, fired all the members in a fit of anger over their demands for more money, then quickly replaced them with the Five Crowns, making Nelson lead singer of the new Drifters. In the next two years, Nelson would go on to record five Top Ten singles as lead vocalist, two of them being his self-penned "There Goes My Baby" and "Save the Last Dance For Me", that would both make it to Number One in 1959 and 1960, respectively.
Like the original members of the Drifters before him, a dispute between Nelson and Treadwell began over royalties and a broken promise regarding a salary increase. It angered Treadwell, and despite settling their differences, he only used Nelson for tours, setting out to find a new lead vocalist. Nelson ultimately left the band in 1960, changed his name to Ben E. King, and embarked on a solo career. His stay on the Top Ten didn't go past 1961, but the two songs he recorded as a solo artist are two of the most classic pop songs ever written.
SPANISH HARLEM – BEN E. KING
King's first single was written by one of rock 'n' roll's most successful songwriting duos, along with a lunatic genius record producer, Jerry Lieber, Mike Stoller and Phil Spector although Stoller's name doesn't appear on the credits of the record.
Having written for Elvis and countless other Fifties pop stars, they performed "Spanish Harlem" to Atlantic Records honchos and equally essential rock 'n' roll pioneers Ahmet Ertegun and Jerry Wexler. Lieber and Stoller would regularly perform a sample of the songs they had just written in order to sell them to Atlantic for their roster of recording artists. Having just been signed, Ben E. King was offered Lieber and Spector's "Spanish Harlem" as his debut single.
It was Mike Stoller who added the piano "hook" that has become the most memorable part of the song, but Stoller didn't insist that his name be placed in the credits because he knew Spector's temperament would not have handled it.
"I've never heard the song played without that musical figure. I presumed my contribution was seminal to the composition, but I also knew that Phil didn't want to share credit with anyone but Jerry, so I kept quiet." – Mike Stoller
"Spanish Harlem" is a beautiful song about humanity and how beauty can still sprout through the cracks of mundane civilization. It made it up to Number Ten Pop and Number 15 R&B, and is included at Number 358 in The Rock & Roll Hall of Fame's list of the 500 Greatest Songs That Shaped Rock & Roll.
"There is a rose in Spanish Harlem, a red rose up in Spanish Harlem, it is a special one, it's never seen the sun, it only comes out when the moon is on the run and all the stars are gleaming… It's growing in the street right up through the concrete but soft and sweet and dreamin'…" Spanish Harlem – Ben E. King
STAND BY ME – BEN E. KING
The Recording Association of America named "Stand By Me" the Song of The Century. A film was made showcasing the song as the movie's title and soundtrack. Countless artists recorded their own versions of this classic song, including John Lennon.
"Stand By Me" was written by Lieber and Stoller, and is quite simply a rock 'n' roll masterpiece, thanks to its immortal melody and simple, yet heartfelt lyrics of a man who could brave the worst of calamities as long as his beloved is at his side.
"When the night has come and the land is dark and the moon is the only light we'll see, no I won't be afraid, oh, I won't be afraid, just as long as you stand, stand by me." Stand By Me – Ben E. King
King once said his soulful vocal delivery in "Stand By Me" was influenced by the likes of Sam Cooke and Brook Benton, two of the most soulful singers in rock 'n' roll history, with Cooke sharing the pioneering of the genre alongside James Brown. Both "Stand By Me" and "Spanish Harlem" along with his first Number One with the Drifters, "There Goes My Baby", have all earned spots in the Grammy Hall of Fame.
King released several more singles that all charted, but none had the equal success or impact of his first two solo recordings. In 1965, his popularity tapered off, replaced by an onslaught of new artists that took rock 'n' roll to a new level. He didn't surface again until 1975, when he scored another Number Five Billboard Pop hit and went Number One R&B with his funky, disco inflected "Supernatural Thing".
That same year, John Lennon paid homage to King and his best remembered recording with his own equally heartfelt version of "Stand By Me". Lennon recorded the song for his "Rock n Roll" album, part of a series of oldies tracks he was obliged to record and release to satisfy a contractual agreement. Lennon released it as a single. It was to be his last release just before his self-imposed five-year retirement from the music industry to take care of his infant son, Sean.
In 1986, Rob Reiner directed a coming of age drama adventure called "Stand By Me" and used King's title song for the opening and closing credits, as well as naming his film after the song. The film went on to get nominated for Golden Globes in Picture and Director categories, as well as an Academy Award nomination for Adapted Screenplay.
King's song was re-released right after the film's debut and once again entered the Billboard Top Ten Pop chart, a rarity in chart history.
Among Ben E. King's famous fans was comedian George Carlin. King sang "Stand By Me" during a televised tribute to the comedian after his death.
Ben E. King died on April 30, 2015 at age 76 of coronary problems. One of his legacies include his Stand By Me Foundation, a charitable organization for deserving youths to further their education.
GARY U.S. BONDS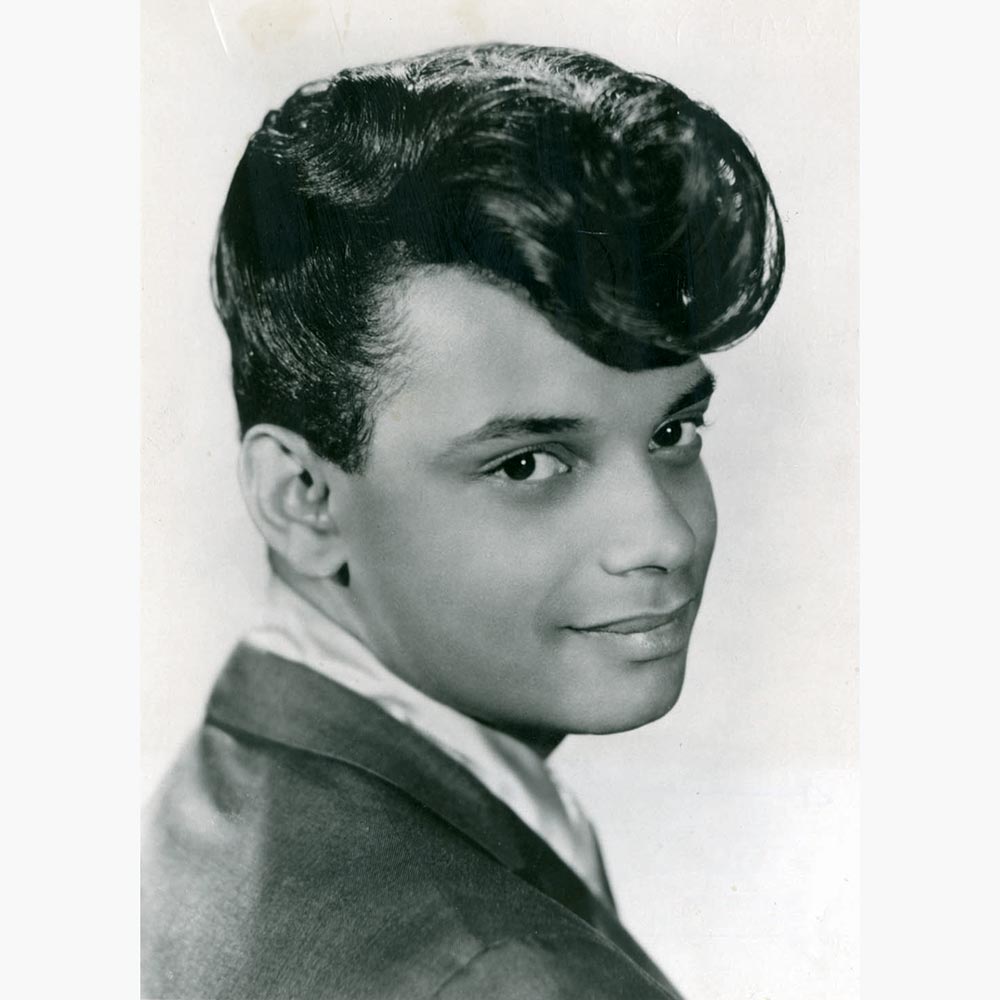 Like Ben E. King, Gary U.S. Bonds also enjoyed a brief but intense couple of years during the early Sixties to produce two rock 'n' roll songs that have a deserved place in the Rock & Roll Hall of Fame's 500 Songs that Shaped Rock n Roll.
NEW ORLEANS – GARY U.S. BONDS
Wearing a hair spray and Brylcreem cemented pompadour that looked like it weighed a ton, Gary "U.S." Bonds, rocketed up the charts for a brief stay in the early Sixties with the first example of grunge rock 'n' roll.
The grunge sound comes from the way Bonds' records were recorded…. not very well. Besides being monophonic, like less and less songs in 1961 since stereophonic had been introduced in the mid-Fifties, they also sounded muffled, thereby giving it that grungy feel. But what really made these songs hits was the musicianship; loud and raucous, like a party that's gone off the rails.
Gary Levone Anderson had his last name changed to "U.S. Bonds" when he was first signed to a small record label named Legrand. It seems that label owner and record producer Frank Guida changed Anderson's name to that of a public service announcement that advertised the sale of government bonds, simply because he thought if the radio stations confused his artist with the PSA, then he'd receive more airplay.
When his debut album "Dance 'Til Quarter to Three" was released in 1960, people thought Gary U.S. Bonds the name of a rock 'n' roll group.
NEW ORLEANS – GARY U.S. BONDS
The first single off the album was "New Orleans" and it quickly shot up into the Top Ten to rest at Number Six on Billboard's Pop chart. Bonds' opening wail is a familiar rock 'n' roll clarion call, ushering in a new sound. The accompanying sax to this rocker, complete with hand clapping and foot stomping, makes it very difficult to sit still.
NOT ME – GARY U.S. BONDS
Bonds' second single, "Not Me" failed miserably on the charts, not even cracking the Hot 100. That's probably because it not only sounded a little like "New Orleans", it also sounded like dozens of other rock 'n' roll songs that preceded it. Its saving grace is that if you listen to it on its own, without comparing it to his bigger hits, then it's just as danceable and beautifully grungy as the rest of his songs.
QUARTER TO THREE – GARY U.S. BONDS
It was this single, his third, that made it to Number One Pop and stayed there for two weeks, ultimately selling over a million copies, and is today listed on the 500 Songs That Shaped Rock 'n' Roll. "Quarter to Three" is originally derived by an instrumental called "A Night With Daddy 'G'" by a group called the Church Street Five. Among its writers was Guida. Apparently, he took his work, added lyrics to it and gave it to Gary to sing and record.
Guida added "Anderson", Bonds' birth name, to the songwriting credits, primarily due to Gary's vocal arrangement on "Quarter to Three".
Frank Guida insisted that he purposely recorded the song poorly because that was the sound he was going for. Even compared to other recordings of the time, this tune sounded crude, but the song's catchiness not only made it a hit, the style was copied decades later by grunge acts like the Strokes, who purposely recorded their songs fuzzy and distorted.
SCHOOL IS OUT – GARY US BONDS
It still had the "Bonds feel" but the song just wasn't as catchy as his two previous hits. Still, it managed to reach Number Five on Billboard Pop. He would manage to enter the Top Ten two more times in late '61 and early 1962, but the tunes are forgettable and doesn't compare to his debut work.
Bonds is still active, having released his last album in 2009 and even taking acting jobs such as a small role in the Netflix TV series Lillyhammer. Even today, at age 76, Gary U.S. Bonds continues to take guest spots and perform in selected venues.
ETTA JAMES
A songbird named Jamesetta was born on January 5, 1938 to Dorothy Hawkins, a 14-year-old girl whose life consisted of walking the streets of Watts. In later years, Jamesetta referred to her mother as "the Mystery Lady".
Legend has it that her father was famed pool shark Rudolph "Minnesota Fats" Wanderone. Jamesetta has recollections of meeting him as a child. Regardless, she was brought up by a series of short-lived foster parents, ultimately staying with a couple named Lulu "Mama Lu" and James "Sarge" Rogers.
"She (my mother) was a kid and, you know, I had feelings about all that kind of stuff for years, and I went to therapy and all about it. But then as I got older I realized that she really – she really did the best for me. She put me in a lovely home. The people were, you know, lovely to me. They never said that they were my real parents, I mean, I always knew I had this good-looking, you know, high-stepping mom, and she was like only 14 years older than me. And so, she did the best for me because if she had tried to take me with her, she was just a child. What would she have done with me?" -Etta James; NPR – The Fresh Air Interview (1994)
Both foster parents, keenly aware of little Jamesetta's beautiful voice even at age five, allowed her to receive professional vocal training from James Earl Hines, musical director at St. Paul Baptist Church in South Central Los Angeles. Jamesetta's foster father, Sarge, would attempt to profit from it, attempting in vain to get paid for her church singing, and at times waking her up in the middle of the night to have his poker buddies listen to her sing, sometimes even beating her to get her to cooperate.
Jamesetta returned to live with her biological mother at age 12, after Mama Lu died. That's where her education in doo-wop truly began.
"My mother always told me, even if a song has been done a thousand times, you can still bring something of your own to it. I'd like to think I did that." –Etta James; NPR – The Fresh Air Interview (1994)
By age 14, Jamesetta formed a girl group and called them the Creoleottes; its name inspired by their light skinned complexions. Musician Johnny Otis spotted Jamesetta & her Creolottes in 1952 and wanted to record them, but first Otis felt Jamesetta's stage name needed to be simplified, so he took her name and inverted it, changing it from Jamesetta to Etta James, then changed the name of her group to the Peaches.
"I had ran away from home. And I went and I stayed with two girls, one named Abby and Jean who later became the Peaches, you know. It used to be Etta James and the Peaches. And we had wrote an answer to the song 'Work With Me, Annie.'" –Etta James; NPR – The Fresh Air Interview (1994)
Etta James' musical career began at age 16 when she recorded "The Wallflower" in 1952 with the Johnny Otis band. That tune was the answer song for a blues classic called "Work With Me, Annie" by Hank Ballard and the Midnighters. "The Wallflower" was originally supposed to be called "Roll With Me, Henry", but the title was changed due to its sexual connotation. Apparently, "rolling" meant having sex.
Annie, please don't cheat, give me all my meat, Ooo-hoo-wee, so good to me. Work with me Annie… now, let's get it while the gettin' is good." Work With Me, Annie – Hank Ballard & The Midnighters
While the cats are ballin', you better stop your stallin'. It's intermission in a minute so you better get with it. Roll with me, Henry, you better roll it while the rollin' is on, roll on, roll on, roll on…" The Wallflower (Roll With Me, Henry) – Etta James & The Peaches
"The Wallflower" managed to hit Number One in the U.S. "Hot Rhythm & Blues Tracks" chart for the four weeks of February in 1955. Soon, they were going on tour with Little Richard, and Etta James & the Peaches were his opening act. While on tour, crossover artist Georgia Gibbs re-recorded "The Wallflower"; it reached the Number One position on Billboard's Hot 100 chart, much to Etta's disdain of watching her song become a success for someone else.
GOOD ROCKIN' DADDY – ETTA JAMES
Etta James left the Peaches for a career as a solo artist later that same year. Her debut single, "Good Rockin' Daddy", reached Number Six in the US Top R&B chart. It would be her last Top Ten song for the remainder of the Fifties.
James released nine more singles between 1955 and 1959, and not one of them cracked any of the charts. Her contract for the record label she had signed to, Modern, was expiring in 1960. Because of the lack of another hit song, James decided not to re-sign with Modern and went instead with a fledgling record label that specifically released authentic blues and doo-wop music. It was run by a young, white, Jewish man named Leonard Chess and his record label was called Chess Records.
James auditioned for Chess in his hotel room one night when he was in town. Her reticence for singing on demand, probably a residue of the beatings she took as a child to get her to perform, was showcased in the film "Cadillac Records" (2008) with Adrien Brody and Beyonce Knowles as Etta James, with James performing out of the sight of Chess, in the bathroom.
IF I CAN'T HAVE YOU/SPOONFUL – ETTA JAMES & HARVEY FUQUA
Once at Chess, Leonard Chess paired Etta up with Harvey Fuqua of the Moonglows to record singles through Chess' subsidiary label Argo (later renamed Cadet). James and Fuqua ultimately became lovers as they worked together. They managed to release two singles. The first one, "If I Can't Have You", a smoldering blues ballad, immediately placed Etta back on the charts, climbing to Number Six on the U.S. R&B chart and Number 52 on Billboard's Pop chart in 1960.
Their subsequent single, "Spoonful", didn't do as well, reaching only Number 12 R&B and Number 78 Pop, but is one of the best versions recorded of the legendary composition. It was written by Chess label mate Willie Dixon and had already been recorded by Howlin' Wolf that same year, but this James/Fuqua recording was the version that proved to be a crossover, albeit moderate hit.
The song "Spoonful" became a permanent fixture in the history of rock 'n' roll when Cream recorded it in 1968 for their classic "Wheels Of Fire" album and took it soaring to unimaginably wondrous aural heights. Eric Clapton would go on to re-record the song more than once for various compilations sets and live albums, and also in different band incarnations such Derek & The Dominoes, as well as perform "Spoonful" scores of times during his performances and yours.
By the time Etta James went out entirely on her own, she had begun to establish her original style, a style that would prove to become trendsetting. Not only would her voice be one of the first female rock 'n' roll voices ever recorded, she was also one of the first black women to ever dye her hair blonde or don a blonde wig. The "Miss Clairol" home coloring kit had been first introduced to the female market only four years earlier in 1956, but in 1960, the idea of a black woman wearing anything but black hair was unthinkable. Etta James however, always did things differently.
"I had two role models I liked. Joyce Bryant, because she wore fishtail gowns, sequined fishtail gowns, and she was black, and she had the nerve to wear platinum hair. And then I also loved Jayne Mansfield, because Jayne Mansfield had the blonde hair and had like the poochie lips and the mole and all this. So I think what I did, it was kind of combine – my mother had bleached my hair carrot red at one point, and then I said, well, maybe that's not flamboyant enough. So I just, kind of, went into Detroit one day, and one of the fellows over there said, oh, Ms. James, why you would probably look fabulous with blond platinum hair. So he bleached my hair blonde, and it looked good. And so, then I started – what I was doing was trying to be a glamour girl, because I had been a tomboy most of the time. And I wanted to look grown…" –Etta James; NPR – The Fresh Air Interview (1994)
Etta recorded her first solo album that same year, 1960. By then, the addiction that had started with alcohol ten years earlier at age twelve had developed into a dependence on hard drugs, culminating in a heroin addiction by 1959. It made her unreliable, interfering with her ability to perform and record, with the ultimate result of preventing her career from rising to the pinnacle of fame of her peers like Aretha Franklin and Tina Turner.
"I was on drugs at that time. And I think I really wanted a low profile."-Etta James
Along with this, she always struggled with her weight, indulging in food and alcohol, apparently to fill a vacuum in her life. Despite her erratic behavior, Etta still managed to record an album in 1960 that Rolling Stone named as one of the 500 Greatest Albums of All Time, with songs that varied in genres from gospel to rock 'n' roll, from jazz to doo-wop to blues. The crowning centerpiece of the album also served as its title, and went on to become her signature song throughout the rest of her career.
AT LAST! – ETTA JAMES (ALBUM)
James' romantic relationship with Harvey Fuqua was deteriorating by 1960. Fuqua had moved on to work for Berry Gordy and his Motown record label and began seeing Gordy's daughter, Gwen, whom he would ultimately marry. In the meantime, Leonard Chess, along with his brother Phil, oversaw the recording of the James album. The Chess brothers were attempting to mold her into a crossover pop star. Leonard heard her primarily as a balladeer, so they added strings and produced a lush orchestral arrangement to some of the songs. But they were also smart enough to change the instrumentation of her more danceable rock 'n' roll tunes, replacing the strings with guitars and drums.
ALL I COULD DO WAS CRY/MY DEAREST DARLING – ETTA JAMES
The album "At Last!" was released in November of 1960. The first single off the album, a doo-wop/R&B number, was literally about James' romantic life at that particular moment, evident in her heartfelt vocal. To add to the irony, it was penned by three songwriters, including Barry and Gwen Gordy; Gwen being the very same woman whom Harvey Fuqua had left Etta for, and subsequently married just before the recording of this song, which is about a man who leaves a woman for someone else and marries her. But the irony doesn't end there. The third songwriter, Billy Davis, was Gwen Gordy's boyfriend until she met Fuqua, James' ex-boyfriend. It seemed that despite their romantic entanglements, they all still managed to carry on a successful professional relationship.
The song was written and recorded for James' debut album soon after Fuqua and Gordy married.
"I heard church bells ringing, I heard a choir singing, I saw my love walk down the aisle. On her finger, he placed a ring, I saw them holding hands. She was standing there with my man. I heard them promise "'Til death do us part". Each word was a pain in my heart. All I could do, all I could do was cry. All I could do was cry, I was losing the man that I love and all I could do was cry." "All I Could Do Was Cry" – Etta James
The flipside to the "All I Could Do Was Cry" 45 rpm single, "My Dearest Darling", was in the same doo-wop/R&B style, with Etta's voice evoking the blues that truly hung in her heart. In the film "Cadillac Records" (2008), Brody's Chess repeats a phrase to Knowles' James in the movie that was a piece of advice he may very well have given her for real: "Sing the blues, but don't live them."
Both songs made it into the national R&B chart at Number Two and Five respectively, but only made it as high as Number 33 in the Pop chart.
AT LAST – ETTA JAMES
"At Last", Etta James' signature song, entered the charts in January, 1961. It didn't reach very high in the Pop chart, but it's undoubtedly become timeless since, ingrained in American culture; one of those romantic songs that make you truly feel the yearning and immediately puts you in the mood for candlelight and slow dancing.
The song has endured over the decades, in large part because of its consistent re-use in pop culture and marketing. The song has been showcased in the films "Rain Man", "Pleasantville" and "American Pie". It's been heard regularly on national television in commercials for Jaguar, Hoover vacuum cleaners and State Farm Insurance. It's also been played on television shows from "Northern Exposure" to "The Simpsons".
"At Last" is well deserving of its enduring popularity and has even been sung to world leaders. Beyonce Knowles sang it at Barack Obama's Presidential Inauguration on January 20, 2009, dedicating it to the First Couple.
As wonderful as this was, Etta herself wasn't too thrilled. Two weeks after the event she wasn't invited to, she announced to a crowd she was performing for in Seattle that she was upset about the fact that Beyonce had stolen "her song" to sing to the President and the First Lady.
The inception of "At Last" began almost twenty years earlier in 1941, when the melody was written by Mack Gordon and Harry Warren, and performed as an instrumental in a movie musical called "Orchestra Wives" by the Glenn Miller Orchestra, who later also released it on vinyl. Etta James' version was the first with lyrics, and her vocal interpretation of the words that lends it such an evocative quality is the definitive performance of the composition. When Beyonce sings it, she is essentially performing it just as Etta James would. There is no improving upon perfection.
"At Last", like all her prior singles, reached the national R&B Top Ten, peaking at Number Two, but it stalled in the Pop chart at Number 47. Time has proven this amazing oversight wrong. In 1999, "At Last" was inducted into the Grammy Hall of Fame.
TRUST IN ME – ETTA JAMES
Etta's next single, released in mid-1961, was also plucked from the past. Originally written in 1937 and sung by Mildred Bailey, it had made it up to Number Four in that year. It was re-recorded by various artists throughout the Fifties, including Eddie Fisher and Louis Jordan, but once again, it's Etta James' heartfelt vocals that make her version the definitive one. It only made it to Number 30 in the Pop chart in 1961 but it climbed up to Number Four in the R&B chart, her seventh R&B Top Ten single.
James recorded jazz numbers for the album as well, like "Sunday Kind Of Love" and "Stormy Weather", backed with a traditional string arrangement that gave the song its romantic quality, and also to communicated her melancholy pain.
She could just as effortlessly belt it out like the best of the rock 'n' rollers in "Tough Mary", delivering an underlying growl in her voice that has since been imitated in dozens of rock voices since. She also sings the blues with "I Just Want To Make Love To You". In those recordings, Chess replaced the lush strings for a basic rock beat.
Leonard Chess' production, showcasing Etta's ability to effortlessly slip in and out of different musical styles, is what makes the "At Last!" album such an important contribution to the history of rock 'n' roll. Many vocal artists since, both male and female, have emulated Etta James' style of singing.
Etta's version of "I Just Want To Make Love To You" is a laid back bluesy style, but in this case, the definitive version of this particular song belongs to the Rolling Stones, who recorded a sped-up, rocked out version of the Willie Dixon penned song in 1964.
"At Last!" climbed up to Number 68 on Billboard's National Pop Album chart in 1961, a number her subsequent albums never reached again throughout the rest of the Sixties. As a result, she stayed primarily a singles R&B artist. She charted in the R&B Top Ten once again with a song from her second album "Second Time Around", called "Don't Cry Baby" (#6) in 1961.
Her next single off her third album, "Etta James" (1962), was the classic "Something's Got a Hold On Me" (#4 R&B), with its mixture of soul, blues and gospel. Its opening line, "I've got a good feeling", was sampled by Flo Rida 49 years later in 2011 for his own song, called "Good Feeling".
Etta James' second and third albums, where these last two songs were found, respectively, didn't even sell enough to enter Billboard's National Top 200 Albums chart, but her next single, "Stop The Wedding", released in late 1962, entered Number Six in Billboard's R&B chart. The album it came from was her upcoming greatest hits compilation called "Etta James Top Ten". That climbed to Number 117 in the Album chart in 1963.
"Stop The Wedding" was yet another fiery torch song of the woman losing her man to someone else. This time, Leonard Chess steered away from adding strings and used instead a bluesy piano inside a sparse arrangement, with mournful backing vocals accompanying Etta's wailing growl.
"Pushover" (#7), also came from "Etta James Top Ten" and was released in tandem with the album in 1963. It's a more playful number, swaggering in style and injected with a bit of the Motown sound in its hook. This influence could be due partly because of Etta's close ties to Motown, having sung and recorded over a half dozen songs written or co-written by either Barry Gordy, Gwen Gordy, Harvey Fuqua or Billy Davis.
"Loving You More Every Day" (#7) in 1964 would be her last R&B Top Ten for the next three years.
Etta's following two albums after her greatest hits compilation and all the singles she released from 1965 through 1967 failed to break the album chart or the Top Ten R&B and Pop singles charts. The music found on the Pop and R&B charts had changed drastically from '62 to '67, due not only to the Beatles' profound influence in musical tastes and the subsequent "British Invasion" of legendary acts, but also because of Motown's unique style and ironclad grip on the R&B and Pop Top Ten.
TELL MAMA/I'D RATHER GO BLIND – ETTA JAMES
By 1967, Etta James had fallen deeper into heroin addiction, affecting her personal and professional life. Still, she managed to release one of the best studio albums of her career, titled "Tell Mama" (1968). The album received a Grammy nomination that year for Best R&B Solo Vocal Performance for the the title song. With more than a strong resemblance to Motown, "Tell Mama" was the first single of hers to enter the Top Ten R&B in three years and her highest charting Pop single to that date, reaching Number 23.
The flipside, "I'd Rather Go Blind", turned into another Etta James classic that has endured to this day. According to Etta's autobiography, "Rage To Survive", she first heard an outline of the song from her friend Ellington "Fugi" Jordan when she visited him in prison. She then finished writing the song with Jordan, but credited her songwriting partner at the time, Billy Foster, for tax reasons.
In 1969, Etta James' mentor Leonard Chess died. She was reportedly devastated. The film "Cadillac Records" (2008) implies a secret romance between Leonard and Etta. The same year of Chess' death, she married Artis Mills.
As she continued to record for Chess, her Seventies output met with the same lackluster album sales, despite having changed her style to more soul, funk and rock. She did enter the R&B Top 40 three times between 1970 and 1973, and her 1973 album "Etta James" entered the Pop and R&B albums chart, and although produced no hit singles, did get nominated for Best R&B Vocal Performance, Female once again for the work.
Her personal life was going into a tailspin during the Seventies, going in and out of rehab centers and becoming addicted to methadone in order to kick her heroin habit. Etta was also going through a string of legal issues stemming from her heroin addiction. James and her husband were arrested for heroin possession at one point, but her husband Artis took the rap and went to serve a ten-year prison sentence. James was arrested again in 1973 for writing bad checks. The following year, she was sentenced to drug treatment instead of time in prison. Trying to tame the addiction that was ruining her life, she received a glimmer of hope for her career's future in the form of an invitation from a legendary rock band.
"I was in rehab at the same rehab center in the '70s, '74, '75, I got a letter from Keith Richards that had told – that had said to me that they were getting ready to do a tour. You know, that they had had Tina Turner, and they had had B.B. King, and they had different people on their tour. And they had wanted me on their tour. And the letter that they wrote came to the rehabilitation center, and the therapist got the letter, and he called me to his office and read the letter. And the letter said that they – he said, we would like to have you on tour with us. We love your music and he says, but what you're doing right now is more important than what we could ever do with you, but we will be sure to come back and get you when you're ready. And that was really cool. That was when they came back in '78 and kept their word." – Etta James
Etta James' career throughout the Seventies had shifted from recording to touring, and the Rolling Stones' 1978 tour was the culmination. She continued to record regularly for the rest of the decade, having left Chess and signed to Warner Brothers in 1976, but none of her subsequent albums sold well. In 1980, she stopped recording altogether. She had not been able to control her addiction, having fallen for a man with an equally powerful drug problem after she had left rehab, despite still being married to an imprisoned Artis Miller. For the remainder of the Eighties, Etta James did not record and performed very little. One of her most public performances was at the opening ceremonies of the 1984 Summer Olympics in Los Angeles, California. Two years later, Keith Richards invited her again, this time to play with Chuck Berry in the Taylor Hickford documentary "Chuck Berry: Hail! Hail! Rock & Roll!" (1987).
In 1988, Etta James entered rehab once again at the Betty Ford Clinic in Palm Springs, California. Although it did steer her away from the hard stuff, her addiction found a new home with painkillers.
http://cps-static.rovicorp.com/3/JPG_400/MI0001/617/MI0001617221.jpg?partner=allrovi.com
Etta went back into the recording studio in 1989. She had entered the National Billboard Jazz chart for the first time in her career two years earlier, soon after the release of the Berry doc, and made it to Number Ten with her live album "Blues In The Night Volume One, The Early Shows". It would be one of four other albums released mostly in the Nineties that would enter the Jazz National Top Ten. In 2001, her studio album "Blue Gardenia" made it to Number One in the National Billboard Jazz chart, her first ever Number One record of any kind.
It seemed that the Nineties was the true pinnacle of Etta James' career. She was inducted into the Rock & Roll Hall of Fame in 1992. She co-wrote her autobiography "Rage To Survive" with David Ritz in 1995. Her classic Sixties recordings were getting regular airplay on various television commercials, TV shows and films. Besides the four Top Ten Jazz albums released between 1987 and 2001, she had a string of Top Ten R&B albums from 1997 to 2011, including a second Number One, this time in the R&B chart, titled "Let's Roll" (2003).
Etta James' inevitable decline began in 2008 when she was diagnosed with Alzheimer's Disease. In 2010, she entered rehab one final time for her addiction to painkillers. She was 72 by then and her body was beginning to fail her. Her knees were too weak to carry her weight, so she sat much of the time during her public performances. She also entered the hospital that same year for treatment of a very rare infection caused by a very antibiotic-resistant bacterium called MRSA. The following year, in 2011, she was diagnosed with leukemia. On January 30, 2012, five days before her 74th birthday, the powerhouse voice that was to launch a thousand rock 'n' roll voices was silenced.